US Sailor Dwanya Hickerson Charged in Death of Dee Whigham, Black Transgender Woman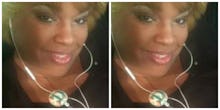 "Tomorrow is never promised, so live life and embrace all that comes," Dee Whigham, a 25-year-old registered nurse in Shubuta, Mississippi, wrote on Facebook.
Whigham, a black transgender woman, was found stabbed to death on July 23 while visiting the 7th Annual Gulf Coast Black Rodeo in Biloxi, Mississippi. Dwanya Hickerson, a 20-year-old man who serves in the U.S. Navy and is stationed in New Orleans, was arrested and charged with Whigham's death on Monday after authorities obtained surveillance footage near the crime scene and matched the assailant on camera with his image.
Whigham's death comes amid increased coverage of deaths of transgender women of color in recent years. At least 15 transgender or gender nonconforming people have been killed in the United States in 2016, according to the Anti-Violence Project, a national authority on violence against and within LGBTQ communities. The organization's most recent annual report showed  a 20% increase in LGBTQ homicides from 2014. Transgender women in general, and black transgender women specifically, face an outsized risk of violence, discrimination and harassment compared to their white, cisgender counterparts. 
Whigham leaves behind grieving friends and colleagues who remembered her publicly in the week after she was killed. 
"Our thoughts and prayers are with the family of Dee Whigham as they try to make sense of this terrible tragedy," said Evan Dillard, President and CEO of Forrest Health, according to WLOX, a local affiliate in Mississippi. "She will be remembered at Forrest Health as an excellent nurse who was well-loved by her patients. I know Dee will be missed by her co-workers, supervisors and the Forrest Health family."
Whigham's family started a GoFundMe page to raise funds for her burial, identifying her with male pronouns. "Dee was a new graduate RN working overtime, extra shifts and even a second job to provide," for family, the page reads. "Please assist in anyway possible so that Dee may be laid to rest in a timely manner."
A candlelight vigil is scheduled to honor Whigham on Wednesday at 7 p.m. at Lighthouse Community Church in Biloxi, Mississippi.
Read more: