The One Surprising Thing Paul Ryan and Kylie Jenner Have in Common: Ear Makeup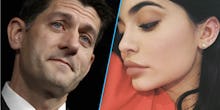 Your ears might not be the first place you put makeup on in the morning, but for Kylie Jenner and Speaker of the House Paul Ryan, it's a vital step in the beauty process. Who would've thought that these two well-known faces (uh, ears) shared a love of ear contouring, let alone anything at all?
Back in February, Jenner uploaded a "smokey rockstar" tutorial to her website. After her makeup artist, Hrush Achemyan, contoured the 18-year-old's cheeks, nose, forehead and jawline, she moved onto her ears. "Oh yeah, I like when you do my ears," Jenner said according to Allure. 
As Achemyan further explained, if she is going to contour Jenner's entire face, it only makes sense that she does the ears as well. "Actually, it's a really good tip that a lot of people don't do," she said. "Because it's really not cute when you're on the red carpet, or you get snapped and then your face is one color, and the ears are different."
She added: "It shows, like, the tone is not really your skin tone and you have on a lot of foundation. Just like your neck, your ears are a part of your face." 
"Your face is one color, and the ears are different."
And apparently, the House Speaker might have a subscription to Jenner's website. In an interview with Harper's Bazaar, Jason Kelly, the Republican National Convention's makeup artist, divulged the 46-year-old's beauty requirements. 
"He said his 5 o'clock shadow comes in at 2," Kelly said. "He knew he needed the full coverage foundation to cover it up. Some guys like letting the stubble show — but not him." Bazaar added: "Kelly's team says Ryan also wanted to brighten up his inner-eyes and powder on the top of his ears to hide redness." 
Like Jenner before a red carpet, it is truly important that Ryan applies makeup before heading onstage. After all, it's not easy to trust or listen to someone with discolored ears. 
Read more: