Here's Everything You Need to Know About the Mothers of the Movement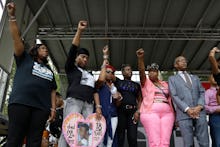 Twelve to 43 years old: the age range of the black sons and daughters killed by police and gun violence whose mothers will take the stage Tuesday night at the Democratic National Convention in Philadelphia. 
The mothers' remarks will likely center around the night's theme, "A Lifetime of Fighting for Children and Families" — an apparent reference to legacy of presumptive Democratic nominee Hillary Clinton. By extension, their presence reflects some of the women's pledged support for Clinton's candidacy.
According to a Democratic National Convention Committee email, the women expected to appear in a "Mothers of the Movement" presentation include:
Sybrina Fulton, the mother of Trayvon Martin; Geneva Reed-Veal, the mother of Sandra Bland; Lucy McBath, the mother of Jordan Davis; Gwen Carr, the mother of Eric Garner; Cleopatra Pendleton, the mother of Hadiya; Maria Hamilton, the mother of Dontre; Lezley McSpadden, the mother of Michael Brown; and Wanda Johnson, the mother of Oscar Grant.
They are referred to as the Mothers of the Movement because their children's names helped energize the Movement for Black Lives and the Black Lives Matter network. Both were started after the 2013 acquittal of George Zimmerman, who faced a murder charge for fatally shooting Martin in a Sanford, Florida, gated community in 2012.
Since losing their children, the mothers have participated in a range of advocacy campaigns aimed at increasing transparency and accountability for officers who kill in the line of duty, enacting better gun control measures to reduce street violence and repealing laws that might shield vigilantes from prosecution. 
In April, Fulton, Carr and McSpadden paid tribute to their children in the short film released with Beyonce's visual album Lemonade.
Noticeably absent from the DNC line up is Samaria Rice, the mother of 12-year-old Tamir Rice, who was fatally shot by police for holding a toy gun in a public park in Cleveland, in November 2014. Samaria Rice has been just as outspoken as the other mothers, appearing at anti-police brutality events throughout the country.
Last November, she told her son's story before a packed room of civil rights activists and global experts at the United Nations in New York City. They had gathered to discuss structural racism in law enforcement.
But she has not offered an endorsement for Clinton or her former challenger for the Democratic presidential nomination, Sen. Bernie Sanders of Vermont.
Read more: