After Outfitting Michelle Obama, Christian Siriano Sets His Sights On Hillary Clinton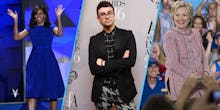 News publications raved about the simple, but show stealing, Democratic blue Christian Siriano gown that Michelle Obama chose to wear during her speech at the Democratic National Convention in Philadelphia on Monday. And now, two days after seeing how important the role of fashion is in politics, the 30-year-old luxury womenswear designer is hoping to add Hillary Clinton to the long list of women he's dressed. 
"I would prefer to make her an evening gown," Siriano explained to Mic when we sat down before a presentation he was giving to Berkeley College students and faculty Wednesday afternoon. "'Cause what's exciting is, who knows what she'll wear to any event, as there will be events that are black tie." 
He added: "She used to wear the most beautiful dresses when she was First Lady, so it'll be so interesting to see, you know, what she decides to be." 
Although Clinton has always been known for her statement pantsuits, she wore two rather memorable dresses to her husband Bill's two inaugurations in 1993 and 1997 — the first designed by Sarah Phillips, the second Oscar de la Renta.
After thinking about it further, Siriano acknowledged that he'd also love to craft her an amazing black suit. "A beautiful gown or a great black suit could be powerful as well," he said. "Just depends on the circumstance." 
When it comes to clothing, female politicians are constantly criticized for what they choose to wear. It happened just last month when Clinton wore a $12,495 Armani jacket. "Hillary's jacket is worth almost as much as the annual salary of one minimum wage worker," one Twitter user wrote.
Men on the other hand, don't get these same type of comments — something which Siriano credits to how traditional suits are. "Menswear is classic and doesn't really change as much," he said. "I'm sure if a man wore a cobalt blue suit or a bright red suit, it would be a topic." 
When it comes to First Lady's, the scrutiny itself is unfortunately expected and often comes with the territory. But in politics, especially with female candidates, fashion can be an important part of a discussion, one that affects who you choose to listen to or not. 
"The average person at home looks up to politicians," he said. "You aspire to be a part of their journey, just like you would with your favorite actress or musician. We live in this world where people are interested in fashion and how people present themselves."
Obama is such a great example of this, he said: "What she says is so important and how she dresses is also something that I think young women, older women, everyone can look up to... You're getting people to like you for your voice and your opinions, and that just goes along with you as a person." 
During his presentation on Wednesday, Siriano admitted that designing for Obama was "kinda scary." But, if the reaction to her understated blue dress is an indication of anything, it's that his first foray into political dressing was a smashing success, one that he might have the opportunity to replicate if/when Clinton takes office.
Read more: