Christian Siriano Offers Advice for Shoppers Unable to Find Clothing That Fits Them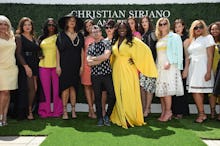 Christian Siriano has had one amazing year. He's dressed the first lady (twice!), launched a bridal collection with Kleinfeld, designed a collaboration for Lane Bryant, earned praise for stepping in and creating a gorgeous red gown for actress Leslie Jones and was serenaded by Danielle Brooks during his July nuptials to musician Brad Walsh. 
The fashion designer took some time away from his busy schedule to speak with Mic about inclusive fashion, and he offered up some advice to those who believe you "can't" or "shouldn't" wear something. 
"You really can't be shy or afraid of trying things," he said before a special presentation hosted by Berkeley College for university and high school students Wednesday afternoon. "We have customers all the time that are like 'Oh, I really have a such a hard time finding this, I'm not this size,' or 'I don't think strapless dresses looks good on me' or whatever it is." 
But he explains that you can't know if something will work, or if a product exists, if you don't experiment or look for it. "It's one of those things that if you've tried once and then you don't try again, then how do you really know if it's going to work," he said. "Every day your body changes, every day your mood changes. I really encourage customers when you're shopping to go for it, push your normal thinking." 
Just this past week, body-positive activist Simone Mariposa started the hashtag #WeWearWhatWeWant to address how often women, especially those that aren't thin, are shamed for what they decide to outfit themselves in. "Every plus-size girl has had to bear the terrible brunt of being judged/policed for what we wear & how we wear it," Mariposa explained on Twitter. 
Siriano, who's designed for everyone from Oprah Winfrey to Rihanna, hopes that he could be the designer that all women — regardless of age, shape or size — can rely on to find clothing in which they feel attractive, comfortable and happy. "Everybody is all different sizes and ages, from all these different places, and we always would have something for as many people as we could, especially at the beginning," he said. "You know, we had a small business, but we always wanted to get as many customers as possible."
"If someone is a fan of a brand, or interested in your world, why not give them a part of it?"
And that is exactly why Siriano has done collaborations with brands like Lane Bryant and Payless. It not only gives him the opportunity to reach more sizes, but also to sell at more accessible price points. "If someone is a fan of a brand, or interested in your world, why not give them a part of it?" he said. "I just think that's such an easy thing to think about ... because why not?"
At the end of the day, his goal as a designer has nothing to do with the physical garment or what it's priced at. "We want to make something that women can live their lives in every day" he said. "[And] make sure that person feels as great about themselves as they can."
Read more: