Kim Kardashian and Kanye West Cover 'Harper's Bazaar' Icon Issue; Give Best Interview Ever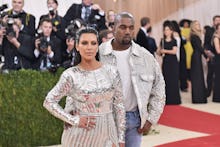 First Vogue, now Harper's Bazaar; Kanye West and Kim Kardashian West have landed their second joint cover, fronting the magazine's September icons issue. 
In addition to an array of new Karl Lagerfeld-shot photos (which, yes, include them taking faux selfies), the couple gave the best damn interview ever. And we mean ever.  
It started off sweet, with the publication's executive editor, Laura Brown, asking Kanye his favorite body part of Kim's and vice versa. 
"My favorite body part of Kim's: heart," Kayne responded. But, when it comes to her own body, Kim loves her ... upper stomach. "I just seem to always have abs," she said. "When I'm not really pregnant, I have a great two-pack. And of Kanye's? I have to say his heart. And I've always loved his legs." 
And then Brown took a lighter approach, asking about their taste in music, which prompted: "Favorite Taylor Swift song?" "For me? I don't have one," said Kanye. "I was such a fan of hers," added Kim. 
After an assortment of favorite book, celebrity crush and hidden talent questions, the interview hit a serious note when Kim discussed her biggest insecurity. "I would say looking fat sometimes," she said. "I really do take it seriously. I try to do what I can and diet and stay in shape, and it does make me insecure when I'm heavy." 
"I used to have insecurity about my finances, then I announced that I had debt, and now I don't have any insecurities." 
Kanye's insecurity, on the other hand? His dollar bills. "I used to have insecurity about my finances, then I announced that I had debt, and now I don't have any insecurities," he said.  
And what does Kanye think about his wife's constant nude photos? "I love her nude selfies. Like, I love the ones from the side, the back ones, and the front. I just love seeing her naked; I love nudity." 
Then, the greatest line in the entire interview was said by Kanye: "I think it's important for Kim to have her figure. To not show it would be like Adele not singing." If there was a Grammy for best analogy, he'd win. 
And it's not just his wife's famous figure that turns him on. "I used to do nude selfies in my single days," Kanye added. "You'd get a good cock shot here and there."
But the real question here is, who's more vain? "I mean, me," Kim said. She added, "Yeah, what is the definition of vain? I want to look up exactly what the definition is. [Googles it.] Vain, definition: 'having or showing an excessively high opinion of one's appearance, abilities, or worth.'" Sounds about right. 
And users are already quoting this insightful interview on Twitter.  
Check out the full interview on Harper's Bazaar. The issue will be available on stands August 16. 
We'll leave you with this: "What would you do if you were invisible?" Brown asked. "Women's locker room," Kanye answered simply. 
Read more: