Voter Registration Dates 2016: Here Are the Most Important Deadlines to Keep In Mind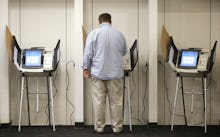 Since the U.S. broke through the racial barrier at the White House, conservatives have been trying to make it harder for residents of our increasingly diverse nation to register to vote and cast ballots. They've successfully lobbied for strict voter ID, additional hurdles to registration and reductions in the number of early voting days — some of which has been blocked or stopped through voting rights advocates' lawsuits.
Out of an abundance of caution, those advocates have stressed how crucial it is that voters, especially those who are racial minorities, verify that they are registered to vote well ahead of any local, state or national election.
As of Thursday, July 28, amid hopes that the U.S. will finally break the gender barrier at the White House, there are just over 100 days left until the general election on Nov. 8.
Here's what voters should know about registration, early voting and absentee balloting:
The National Voter Registration Act of 1993, also known as the "Motor Voter Act," expanded the number of ways eligible voters could register in the U.S. The law requires states to offer registration at the same time that citizens are applying for or renewing a driver's license or state identification card.
So, provided that state officials have complied, anyone who checked "yes" for voter registration should have had her information forwarded to the appropriate state or local election official. There are other ways to register and cast ballots.
Registration Dealines
State deadlines vary. The U.S. Vote Foundation has compiled individual state registration deadline information for upcoming primary votes and general election ballot casting.
Early Voting
Most states allow eligible voters to cast ballot before Election Day, during an early voting period. According to the National Conference of State Legislatures, 37 states and the District of Columbia permit in-person ballot casting.
The U.S. Vote Foundation has also compiled early voting periods here. 
Absentee Ballots
At a voter's request, every U.S. state will mail an absentee ballot. But in 20 states, the absentee applicant must provide an excuse for why they can't vote in-person at the polls or a local election office to certain voters who request one, according to the NCSL. In 27 other states and in D.C., no excuse for voting by absentee ballot is required.
The U.S. Vote Foundation lists the deadline for returning absentee ballots, here.
As the late President Lyndon Johnson once said, "A man without a vote is a man without protection." Act accordingly.
Read more: