Loretta Lynch and Joe Biden Call For Healing at Baton Rouge Police Officers Vigil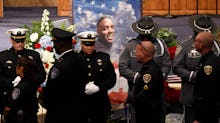 Vice President Joe Biden and Attorney General Loretta Lynch were in Baton Rouge, Louisiana, on Thursday to offer in-person condolences to the families of the officers ambushed by a lone gunman on July 17. At a vigil for three fallen officers, they also acknowledged that racial divisions have strained following a police-involved shooting of a black man.
But the community and those divisions can and will heal with time, Lynch said.
"You are the example for cities that are facing these problems," Lynch told the hundreds gathered at Healing Place Church. "It can feel as if the world is broken beyond repair. We owe it to [the fallen] to be the vessel that carries their faith [in the community] forward."
Remarks from Lynch and Biden came as the community's reminder of the Obama administration's unwavering support for the law enforcement community, at a time when some have questioned their commitment. Amid tensions in Baton Rouge over the police shooting death of Alton Sterling, Lynch and Biden also called for protesters and police leaders to strive for reconciliation.
"This is not about black and white, this is about a city," the vice president said. "The fact is, this assassin wasn't worried about whether he was killing a black or a white officer. He was just out to kill. In order to heal, you have to know who you're dealing with. In order to heal, you have to understand."
The shooting of Sterling, who was black, happened July 5, just one day before the police-involved death of another black man, Philando Castile, in Falcon Heights, Minnesota. The incidents sparked anger and protests locally and across the country. The assassinations of five officers in Dallas following a Black Lives Matter protest the next day worsened already strained relations between law enforcement and communities of color.
Ahead of Thursday's vigil in Baton Rouge, individual funerals had already been held for Baton Rouge Police Department Officers Montrell Jackson and Matthew Gerald, as well as East Baton Rouge Parish Sheriff's Deputy Brad Garafola.
One of the three officers injured in the attack, Deputy Nicholas Tullier, remained in critical condition Thursday, WAFB-TV reported, while officers Bruce Simmons and Chad Montgomery were released from the hospital July 21.
Other vigil speakers, including Louisiana Gov. John Bell Edwards, Baton Rouge police Chief Carl Dabadie Jr. and state police Superintendent Mike Edmonson, injected messages of healing through faith during the service. As the nation's highest ranking law enforcement officer, Lynch reflected that tone.
"May God bless the fallen and their families and shelter their grief with His everlasting grace," Lynch said. "May God bless the peacemakers and all those who stand the watch so that we may live in freedom."
Read more: