Your Must-Read Guide to Cutting Your Hair When You're In Between Visits to the Salon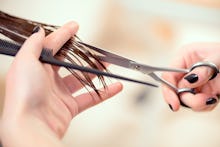 As easy at it would be to stop by a salon every few weeks to breathe some life back into your hair, especially during humid summer months, it could be quite costly. So, what would you say if we told you that you could easily do some touchups on your own? 
Mic worked with Jamie Cook, a stylist and educator at Blackstones Salon in East Village, New York City, to put together the ultimate guide to talking scissors to your hair in the comfort of your home. Whether you are trying to rid your locks of split ends or trim your bangs, as it turns out, it's fairly easy to maintain your look all summer long. 
"As a world traveler and avid summer sun and surf chaser, my hair gets thrashed," Cook said. "I know what it's like when you can't get into the salon. Whether it's because your not currently on the same continent as your stylist or you have too many meetings this week." She adds: "That being said leave the big changes to the professionals." 
How to clean up your ends
Step 1: Part your hair the way you normally do so on an everyday basis, and then split your hair in half.
Step 2: Separate your hair by length and tie sections with a small rubber band.
Step 3: With a sharp, pointed scissor, snip at an angle in quick fast motions. 
Step 4: To make sure you aren't missing sections, flip your hair forward, bunch it together at the top of your head, rubber band it and snip again.
Just remember, you do not want to cut straight across, as you will affect the length of your hair and change the shape of your cut. 
How to trim your bangs
Step 1: Comb your bangs like you usually wear them day to day.
Step 2: Clip back the hair that isn't a part of your bangs by using a comb.
Step 3: Separate your bangs into three sections.
Step 4: Starting in the middle of your bang line, snip upward like you would with split ends, then move onto the other two sections. 
If you miss a spot, you can go back in with scissors. Just don't snip straight across or you might create yourself a nice bowl cut. 
And as Cook points out, a lot of stylists will give their loyal customers a free bang trim if they ask. So, if you're too scared you'll ruin the shape, that's an option. 
How to maintain moisture in summer weather
Don't want to risk taking a scissor to your own hair and not yet ready for a cut? We asked Cook to suggest three products that will lessen any damage or protect your locks through the heat. 
SachaJuan's cleansing cream keeps hair from getting "over stripped in the cleansing process," Cook said. This leads to softer strands. It's leave-in conditioner calms hair while it dries. While Oribe's Gold Lust nourishing hair oil helps to keep ends healthy and smooth. 
But, if you're looking to try a lob, or an entirely new look, it's probably a good idea to head over your local salon.
Or this can happen: 
Read more: