Abercrombie's First Campaign Under Its Rebrand Is Nearly Unrecognizable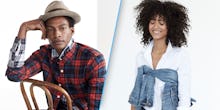 Abercrombie & Fitch has long been known for the pungent fragrances that soaked into its clothing, but also, more distinctly, for the shirtless men that stood in front of its stores and the nearly nude models that were splattered on its shopping bags and across its highly controversial ad campaigns. But not anymore.
The brand's first campaign under Ashley Sargent, the creative director of marketing who started with the company in April, is classy, simple and best of all: diverse. 
After years of sales sub-par sales, the retailer's executive team decided in March 2015 to stop using shirtless models at store openings and events. They also announced they were straying away from the "sexualized marketing" they had so often used.  
But the sexual innuendo-filled campaigns weren't the brand's only problem. It always had a "cool kids" reputation, one that was for so long embraced by former CEO Mike Jeffries. The range of controversial things that Jeffries has said runs deep. But what really rattled customers was the way he turned his back to "larger people." 
"He wants thin and beautiful people," Robin Lewis, the author of The New Rules of Retail, told Business Insider in 2013. "He doesn't want his core customers to see people who aren't as hot as them wearing his clothing." And Jeffries nearly confirmed this himself in a 2006 interview with Salon. 
Sex appeal is "almost everything," he said. "That's why we hire good-looking people in our stores. Because good-looking people attract other good-looking people, and we want to market to cool, good-looking people. We don't market to anyone other than that." 
But the controversy doesn't end with Jeffries comments. Under him, Abercrombie had also been known to discriminate against its potential and current employees solely based on looks. 
Jeffries left the company in December 2014, but sales didn't exactly soar. As Fashionista reported, the company saw revenue growth in 2015 for the first time since 2012; however, by 2016, sales had already decreased by 4 percent overall.
But that doesn't mean that the brand isn't going to continue to join in the industry shift towards inclusion and diversity. In November, the company was praised for featuring Indian model Neelam Gil. "With regards to the choice around Neelam Gill as the model, diversity and inclusion is very important to us as a brand," a representative for Abercrombie told Mic at the time. 
And with respect to this new campaign: "There was no other way to do it," Aaron Levine, the brand's head of men's design, told GQ about casting models of all different ethnicities. "We didn't even think about it." While the casting might've been a no-brainer for the Abercrombie team, it'll be interesting to see whether shoppers respond to the new types of advertising. 
Sex supposedly doesn't sell, but will inclusivity? 
Read more: