Hillary Clinton Accepts Nomination at 2016 DNC: "Let Us Gladly Join the Fight"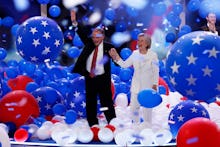 PHILADELPHIA — Hillary Clinton accepted the Democratic nomination for president Thursday night, taking one more step on her eight-year quest to the White House and making history as the first woman to accept the presidential nomination of a major political party.
In her speech, Clinton spoke of love and kindness, her passion for policy and her upbringing that melded her into the kind of public servant she aspires to be.
And she presented the general election as an existential decision for American democracy, saying the country will be choosing between "morning in America" or "midnight in America" with Donald Trump.
"America is once again at a moment of reckoning," Clinton said. "Powerful forces are threatening to pull us apart. Bonds of trust and respect are fraying. And just as with our founders there are no guarantees. It's truly is up to us. We have to decide whether we're going to work together so we can all rise together."
She did not shy away from the momentous nature of her nomination.
"Tonight, we've reached a milestone in our nation's march toward a more perfect union: the first time that a major party has nominated a woman for president," Clinton said. "Standing here as my mother's daughter, and my daughter's mother, I'm so happy this day has come."
During her speech, Clinton reached out to Sen. Bernie Sanders and his supporters — many of whom had outbursts throughout the night, booing military heroes and Clinton herself.
"Bernie, your campaign inspired millions of Americans, particularly the young people who threw their hearts and souls into our primary. You put economic and social justice issues front and center where they belong," Clinton said. "And to all of your supporters here and around the country I want you to know I've heard you, your cause is our cause. That is the only way we can turn our progressive platform into real change for America. We wrote it together so let's go out and make it happen together."
She went on to bash Trump's pessimistic view of America, saying his statement that he "alone can fix" America's problems disqualifies him for the Oval Office.
"He wants us to fear the future and fear each other," Clinton said. "Well, you know a brave Democratic President, Franklin Delano Roosevelt came up with the perfect rebuke to trump 80 years ago ... 'The only thing we have to fear is fear itself.'"
She attacked his business acumen, saying he cheated American workers out of the money he owed them.
"In Atlantic City, 60 miles from here, you'll find contractors and small businesses who lost everything because Donald Trump refused to pay his bills," Clinton said. "People who did the work and needed the money, and didn't get it — not because he couldn't pay them, but because he wouldn't pay them."
Clinton was introduced by her daughter, Chelsea, who told intimate stories about what Clinton was like as a mother.
"My earliest memory is my mom picking me up after I had fallen down and giving me a big hug and reading Goodnight Moon," Chelsea said. "From that moment to this one, every single memory I have of my mom is that regardless what was happening in her life, she was always always there for me."
The acceptance speech marked the end to a four-day Democratic National Convention, where Democrats sought to make the case for why Trump is unqualified to lead.
They made the case with voices that spanned the spectrum from elected officials, Americans with disabilities who Trump mocked earlier this year, families of fallen soldiers and even Republicans who said Trump is an unacceptable nominee.
"With your help, I will carry all of your voices and stories with me to the White House," Clinton said. "I will be a president for Democrats, Republicans, and Independents. For the struggling, the striving and the successful. For those who vote for me and those who don't. For all Americans."
Watch her speech below:
Read more: