Kylie Jenner Is Accused of Copying Her New Eyeshadow Palette — And There's Receipts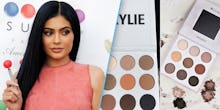 Kylie Jenner might've been working months to perfect her new, sold-out-in-a-minute Kyshadow Bronze Palette — even posting a video of her learning to make the eyeshadow herself — but that doesn't mean her design was completely original. In fact, it looks eerily similar to a New Zealand beauty vlogger's version that has been on the market already for three months. 
After Jenner unveiled the first images of her eyeshadow product on Monday, Shannon Harris, who goes by Shaaanxo and has over two million subscribers on YouTube, posted a side-by-side image of her palette next to the new Kylie Cosmetics item. 
Although Harris only captioned the image with two emojis, fans immediately began to call out Jenner for copying Harris. After all, the design and many of the colors are quite similar. 
Harris has since clarified on Twitter that she doubts Jenner copied her palette on purpose. "I never once said 'Kylie copied me,'" she wrote. "I made a joke bc they look similar lol come on! yes, like lots of palettes do! No beef here guys." 
As one Twitter user above pointed out, this isn't the first time that Jenner had been accused of copying other brands' products. Although it had been long speculated that the 18-year-old's products were repackaged versions of ColourPop's cult-favorite lip stains, in May, beauty vlogger Stephanie Nicole confirmed that Jenner's Lip Kits contained almost the exact ingredients as ColourPop's, but cost $20 more. It was then confirmed by ColourPop's founders that the two brands were produced by the same company. 
Similar to the ColourPop/Kylie Cosmetics pricing discrepancy, Harris' palette retails for $22, while Jenner's costs $42. (These prices do not include additional shipping charges or taxes.) 
Jenner has yet to comment on the controversy, so it's unclear whether or not she took inspiration from Harris' palette. But at least you now have another eyeshadow option to purchase, especially since Kyshadow sold out in under a minute on Tuesday, and will likely do the same during its restock Friday. 
Read more: