Travel and work: 3 ways to see the world and get paid, even if you're broke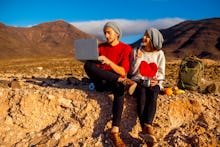 Full of wanderlust, but chained to your desk?
Dare to dream a little. Your seemingly impossible fantasy of living abroad — with enough money to survive — can, indeed, be a reality.
Sure, it's hard, though not impossible, to just show up in a country and start tending bar. But there are many other job options, in a variety of fields, for a person willing to do some careful planning.
Here are three ways to see the world on someone else's dime.
Become a digital nomad
The number of Americans who have worked remotely in the last year has climbed to 37%, up from just 9% in 1995, according to Gallup.
Even the federal government is looking into it. A recent report said remote work reduces costs while increasing worker satisfaction: 47% of Environmental Protection Agency employees already telework, in fact.
Now, it might be hard to convince a boss — even one with especially friendly work-from-home policies — that you'll be able to perform over WiFi from a South American beach. But others might surprise you. The key is identifying employers that have formalized remote work programs, some of which even offer travel stipends that make seeing the world even cheaper.
You can also check sites like Flexjobs, Fiverr, or StackOverflow, which post lots of remote work opportunities.
Many digital nomads jobs are obviously in technology, but it's also increasingly common to find remote positions in sales, education, and marketing.
Teach, tutor, or otherwise do good
Another way to minimize costs while seeing the world is to try teaching in a different country.
Some countries, particularly in the Middle East, have relatively high salaries for English-speaking teachers, and schools sometimes throw in room, board, and benefits.
Beware that high paying teaching jobs are often competitive, and some programs require a teaching certificate.
If you're not trying to spend the time getting certified, you can apply to programs like World Teach, which offers the opportunity to apply for grants to cover expenses.
The State Department has a handy list of resources so you can find a trustworthy teaching program easily.
Those not looking to teach in a big school might alternatively consider working as a private tutor or applying to be an au pair.
And if you want to work within social justice but not necessarily teach, consider programs like the Peace Corps, which pays or non-governmental organization jobs through sites like Idealist which lets you search by country.
There is also the government's International Organization Careers site, which lists opportunities in the United Nations and other development organizations overseas.
Master the art of the gig
Finding jobs abroad can be hard because some countries, like Thailand, have firm rules to protect locals from being displaced by foreign workers. But both teaching jobs and odd jobs are often the exception.
It's not just traditional primary and secondary education: Ski instructors can make up to $1,700 a month in Japan, for example.
Some young workers living abroad have figured out how to capitalize on their own novelty: One woman even learned there's pretty good money in being a human table, if you're a foreigner living in India and can swallow your pride.
While most jobs you can find easily overseas will fall under hospitality, not all of them will require you to sacrifice your dignity quite so much: You might also consider working on a cruise ship or yacht. You'll have crazy hours, but the perks aren't bad.
Other volunteer programs will provide food and board if you are willing to work on a farm or ranch.
In addition to its teaching list, the State Department has a list of broader resources for finding work overseas. If you do decide to work abroad, and especially if you're not using a formal program, be sure to read up on the local labor laws, since every country is different.
Read more: