'Bachelor in Paradise' Week 1 Recap: Hold Onto Your Coconuts, Hurricane Chad Has Arrived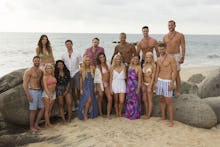 Just when you thought you were done with potato-eating Chad Johnson this summer, he's back. So are 15 of your favorite dramatic Bachelor and Bachelorette contestants for this year's installment of the dating shows' spin-off Bachelor in Paradise. 
The third season's premiere begins by reintroducing us to some of the more recent faces that pursued JoJo Fletcher, Kaitlyn Bristowe and Ben Higgins. First up are identical twins Emily and Haley Ferguson from Ben's season. Which is which? We will never be able to tell. But one thing's for sure, and it's that they "definitely aren't going to be dating the same guy this time." Sure.
Nick Viall, who was the runner-up on both Kaitlyn and Andi Dorfman's seasons, is up next. He is hoping that the "third time's a charm." Fan-favorite Jubliee Sharpe, who competed for Higgins' heart, has been working on her self-described resting bitch face since leaving the show. Evan Bass, the penis doctor from JoJo's season, is still not over the time that Chad ripped his shirt. And Lace Morris, from Ben's season, is very much aware of her issues. 
Finally, we see Daniel Maguire, the Canadian from JoJo's season. He compares himself to herpes and offers the quote-worthy phrase, "An eagle doesn't settle for a pigeon." Oh, and there's Amanda Stanton, who was sent home late in Ben's season, here to remind us all how adorable her kids are. 
Welcome to Paradise
Now off to paradise, or, the town of Sayulita, located in Nayarit, Mexico. After quick therapy sessions with Chris Harrison, Amanda and Nick are the first to arrive on the beach. Jubilee arrives and joyfully says, "oh, it's the penis guy," when Evan shows up. Then comes Vinny Ventiera and, as Nick said, "Who's this?" He was on JoJo's season and that's about all we know. 
Alumni Carly Waddell, a contestant on Chris Soules' season, Grant Kemp who was on JoJo's, Sarah Herron from Sean Lowe's, Izzy Goodkind, a non-factor from Ben's season, and Jared Haibon from Kaitlyn's season all arrive to the island shortly after. 
Daniel is NOT impressed by the current selection and he makes it quite obvious to viewers. "Nothing I'd really touch," he says. "Hopefully there's some better fresh fruit, more succulent and juicy." It isn't until the twins arrive that he says, "Now we're talking." Seems like one of the twins (Emily? Who's to say?) agrees, because she quickly walks out on the beach with him. 
The Chaddening
Then, the moment we have all been waiting for. As Evan says, "Where there is a Daniel, a Chad is not far behind." Boy, was he right. "I don't need money," he tells Chris Harrison before walking out onto the beach. "I don't need fame, I'm looking for a girl." 
While some of the contestants seem afraid of him, Lace quickly feels something. "Instantly, Chad and I hit it off," she says. More importantly, however, is that Daniel and Chad are very happy to have been reunited. And, yes, Chad still wants to rip Evan's head off. 
The Rules
If you've never see this show before, it's a bit trickier than the usual Bachelor setup. Yes, contestants go on Bachelor-style dates, and each week there is a Rose Ceremony. But on Bachelor in Paradise, the boys and girls alternate giving each other roses. If you don't receive a rose, you will be going home. The first week, the guys will be giving out the roses, meaning one of the ladies will be sent packing. Sorry, no love for you. 
Night one's fiesta: Hurricane Chad
Izzy and Vinny seem to be hitting it off, as do Grant and Lace. But, it isn't long before Lace starts being Lace and questions every one of Grant's moves à la her no eye contact speech to Ben. "You don't reciprocate questions," she says. "You don't ask me about me." 
So, she moves on to Chad, asking him if he likes to cuddle (a question surely all viewers need to know). And soon they are having a bunch of mini make-out sessions, mixed in between some (playful?) fighting.
In non-Chad related news, Jubilee receives the first date card and asks out Jared. They go to dinner in a sea of piñatas. The two seem to be bonding over their love of nerdy movies before a creepy ass clown appears.
Back to Lace and Chad. The two seem to become more and more volatile, with Chad saying he wants to throw Lace under a bus. Just when it seems that Lace might be the only person able to match Chad's personality, she ends things and Chad says to her, "This is not the Lace I know." For a day, that is. 
Daniel tries to calm his buddy down, telling Chad that people are scared. Chad's response? "I'll kill your children and murder your family." Finally, Sarah tells Chad off and says she wants nothing to do with him. He drunkenly calls her a "one-armed bitch." Even his BFF Daniel says, "Enough is enough." 
Haley or Emily's response sums this night up:
The next morning, Chris Harrison calls a meeting with the cast to discuss Chad's antics from the night before. But, wait! Just before you were convinced that the entire season was going to be about Chad, Chris does the houseguests a favor and asks him to go home. Of course, he doesn't leave quietly. "I have nothing in my life," he yells at Chris. "Fuck you dude, go drink your mimosas." 
Bye, Chad, see ya never. Or at least until producers let him come back and terrorize the place. 
Tune in Mondays and Tuesdays at 8 p.m. Eastern to see which past Bachelor and Bachelorette contestants join the current cast in paradise. (Josh Murray, Caila Quinn and Wells Adams are on their way, Oh my.) 
Read more: