The Movement for Black Lives' New Policy Platform Looks Beyond the 2016 Election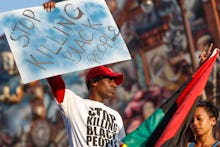 The Movement for Black Lives catapulted to national prominence with its call to end police violence in African-American communities, but a new policy platform shows that the diverse network has much broader goals.
On August 1, the Movement for Black Lives, the network that also encompasses the popular online movement Black Lives Matter, released a policy platform aimed at improving the political, economic and social realities of black life in the United States. 
Ranging from broad demands to key proposed solutions, the platform includes a call for reparations for "past and continuing harms," a call to demilitarize law enforcement, a call for protections for service and farm workers to unionize, and a demand to redirect funds used to incarcerate people for sex work and youth-related crimes like job programs and mental health programs.
"Because we're speaking radical and transformational change, not just minor tweaks to an existing system, that transformational change will be driven from the ground up," M. Adams, co-executive director of Freedom, Inc. and member of the M4BL Policy Table leadership team, said. "Therefore we're not only thinking about election cycles. We wanted to offer something that elevated and articulated a shared set of priorities that's connected to movements before this political moment and after this moment."
Adams added about the election: "We also want to intervene in this moment and give an agenda that resists current election, state and corporate power."
The platform, which can be seen in full on the Movement for Black Lives Policy Table's website, comes immediately on the heels of the Republican and Democratic National Conventions, which saw this country's two major political parties pick Donald Trump and Hillary Clinton as the nominees for their parties. While Clinton made history, becoming the first woman to be nominated by a major party, Trump again antagonized both his critics and members of his own party when he lashed out against the parents of a Muslim American war hero named Humayun Khan, who was killed while fighting the U.S. war in Iraq in 2004. 
Amid the buzz of the election, the Movement for Black Lives' platform is a deliberate pivot away from politics-as-usual and an attempt to reframe not just the campaigns, but the country in which they're happening. 
"We seek radical transformation, not reactionary reform," Michaela Brown, communications coordinator of Baltimore Bloc, said in a press release. "As the 2016 election continues, this platform provides us with a way to intervene with an agenda that resists state and corporate power, an opportunity to implement policies that truly value the safety and humanity of black lives, and an overall means to hold elected leaders accountable."
The Movement for Black Lives Policy Table, which consists of nearly 40 organizations, began thinking of a policy platform to articulate its concerns after the Ferguson uprisings of 2014, and started actually building it last summer in Cleveland, when at a conference called the Movement for Black Lives Convening. Its target audience, according to Adams, "is our community." 
As Adams explained, "One of the primary focuses of this platform is to be useful to folks in our communities who are doing our work."
Read more: