Viral Makeup Tutorial Shows Expensive and Affordable Cosmetics Look the Same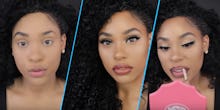 Raye Boyce, a popular vlogger who goes by ItsMyRayeRaye on YouTube, said she wants to help viewers save a good chunk of change on beauty products.
In a video that has since been viewed over 215,000 times, Boyce made up the left side of her face with expensive products, and the right side with their cheaper, drugstore alternatives.
"I'm basically going to show you how you can get the exact same look without having to splurge," she said. 
And that she did. 
Step 1: Foundation
L'Oréal Infallible Pro-matte Foundation vs. Lancôme Teint Idole Ultra 24-Hour Foundation 
Step 2: Concealer
LA Girl HD Pro Conceal vs. NARS Radiant Creamy Concealer
Step 3: Setting powder
Black Radiance Pressed Power vs. Cover FX Pressed Mineral Foundation
Step 4: Brows
NYX Sculpt & Highlight Brow Contour vs. Anastasia Beverly Hills Brow Definer 
Step 5: Contouring 
LA Colors I Heart Makeup Contour Palette vs. It Cosmetics You Sculpted! palette
Step 6: Highlighter
Makeup Revolution Highlighter vs. Pat McGrath Skin Fetish gold
Step 7: Eyeliner
Wet 'n' Wild ProLine Graphic Marker Eyeliner vs. Bare Minerals Lash Domination Ink Liner
Step 8: Mascara
Wet 'n' Wild Max Fanatic Mascara vs. NARS Audacious Mascara 
Step 9: Lip liner and gloss
ColourPop Brink Pencil and gloss vs. MAC Pro Longwear Lip Pencil and Anastasia Beverly Hills Lip Gloss 
Step 10: Setting spray
ELF Illuminating Mist & Set vs. Jane Iredale Hydration Spray
And this is the result. Can you tell the difference?
As Boyce explains, there are many affordable brands that have identical dupes, or at least something similar, to the expensive version on the market. 
So, no, maybe you don't need to go spend over $1,000 at Sephora. (We're looking at you, Kylie Jenner.)
Read more: