Here's Why Mic's Dispatches on Change Should Be Required Reading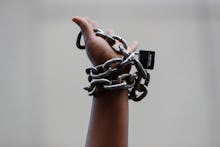 Police violence ending in the deaths of black people has been a recurring news trend in recent weeks. Alton Sterling, Philando Castile and Delrawn Small are names now listed among black people killed after encounters with police. More accounts of police abuse, an increase in the number of hashtag memorials shared on social media, and louder demands for justice from black activists now appear as common phenomena. 
In response to this violence and the lack of paths to justice, #BlackLivesMatter was born. The hashtag was created as a rallying cry for justice and affirmation of black life the day George Zimmerman walked free after he killed 17-year-old Trayvon Martin. And after the Ferguson uprising, in response to the fatal shooting of Mike Brown by a white police officer, the hashtag became the thrust of the current iteration of the long struggle for black freedom in the U.S.  
The Movement is vibrant, and it is our role to cover it with the same rigor of its most ardent supporters. As such, Mic has launched a new initiative to document and deepen our coverage on one of the most important and vibrant movements of our lifetime. The Movement for Black Lives: Dispatches on Change will be where we report out on the latest updates, features and analysis as we track the movement. 
Mic has been reporting on the Movement since the Ferguson uprising because we are committed to ensuring the perspectives of young activists in Ferguson, whose citizen journalism shaped the stories mainstream media reported on. We reported on the unrest in Baltimore after Freddie Gray's death; we highlighted why #SayHerName is a necessary social media intervention in defense of slain black women and girls, and we will continue to report on and tell these stories. 
Our reporters search out underreported stories, counter-narratives and uncommon sources because we realize that reporting on the Movement for Black Lives is more than an opportunity to write about a topic that is popular for the moment. We write because we understand the power of journalism as a medium for public dialogue, which can lead to social transformation. 
We encourage readers to share the stories you've heard about and witnessed. Tell us if you have story ideas or news tips. We know there are many stories yet to be told. And we have the reporters who can and will write them with precision and great care.
Read more: