Lea Michele's "Finn" Tattoo Honoring 'Glee' Star Cory Monteith Has Twitter in Tears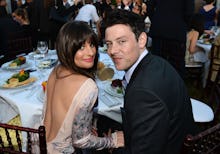 In April, Lea Michele posted a picture of a tattoo of the number five on Instagram, which she had gotten in honor of her late boyfriend and Glee co-star Cory Monteith. But little did her fans know: She actually has another piece of ink dedicated to him. It's just hidden in a more... uh... revealing place: smack dab on her butt.  
On Sunday night, the 29-year-old announced that she was this year's cover star of Women's Health U.K.'s naked issue. "So honored to follow in the great @chrissyteigen's footsteps and grace this years cover of @ukwomenshealth Naked Issue," she wrote. "I'm so proud of this cover and I'm so happy I can finally share it with you all! #confidenceissexy #healthyissexy." 
But fans were quick to notice a spot of ink reading "Finn" — Monteith's character's name on Glee — upon her tush. And many, apparently, proceeded to cry. 
"Her tattoo breaks my heart," a fan added on Instagram. 
Michele, who has a third tattoo of the last words Monteith had said to her — "if you say so" — recently honored him on Twitter, as it was the third anniversary of his passing. "I know every day you're watching over me, and smiling," she wrote. "Love and miss you Cory, every day, but today a little more." 
Feel free to admit that this is you right now:
Read more: