This Gap Ad Is Being Called Out for Sexism and One Glaring, Not-So-Genius Misspelling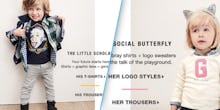 Boys are meant to be scholars, while girls, on the other hand, are simply social butterflies — or at least this is what Gap's recent U.K. advertisement has haphazardly implied, sending many on Twitter into an anger-filled frenzy.
According to Mashable, Twitter user @PsychScientists first noticed the ad that features a little boy with an Albert Einstein tee with the title "The Little Scholar" and a little girl with "The Social Butterfly," wearing a preppy long-sleeve tee. "Just... no," the tweet read.
Many have since tweeted that Gap is perpetuating gender stereotypes that suggest women can't be as smart as men.  
If this ad wasn't already controversial enough, the brand made a glaring spelling error on the Einstein T-shirt pictured on the "The Little Scholar." (A shirt with the correct spelling is seen on the brand's website.) 
Just within the past year there have been multiple occasions when T-shirts have been called out for boasting similar sexist undertones. It's this very reason why there are a slew of companies, like Princess Awesome and Jessy & Jack, working to remove gender stereotypes from clothing or creating gender-neutral items — especially for children.
Gap's situation is unique, as it isn't the actual product, but the way it is being marketed. Even so, the clothing company has found itself embroiled in multiple ad controversies within the last few months. In April, GapKids was called out for an ad in which a white child used a black child as an armrest. Weeks later, the retailer used a space shuttle in an ad with "1969" written over it in honor of the year the company was founded, but people and publications pointed out the pictured shuttle didn't fly until many years later.
Gap has yet to publicly acknowledge any wrongdoing. Mic has reached out to Gap and will update with any comment.
The bottom line: It shouldn't take a genius — pun intended — to get details like this correct.
Read more: