James Baldwin's Birthday: Writers, Scholars Share Tributes to the Late Black Social Critic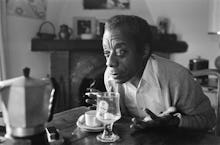 Were he alive today, Tuesday would have marked essayist and social critic James Baldwin's 92nd birthday.
Born in New York City's Harlem neighborhood on Aug. 2, 1924, Baldwin produced a treasure trove of commentary on racial inequity and LGBTQ issues — so much of which still rings true. Baldwin died Dec. 1, 1987.
To celebrate his birthday, modern writers, scholars and critics, including Princeton University professor Eddie Glaude Jr. and the writer Feminista Jones, shared tributes to Baldwin on Twitter.
Baldwin lived proudly as an openly gay man.
And he did so at a time when the respectability politics that captured the African-American community heavily encouraged heteronormativity. The significance of his sexuality wasn't lost on those paying tribute to Baldwin on Tuesday.
Baldwin didn't just write essays about the state of things — he was a playwright and a poet, too.
Born during the Harlem Renaissance, Baldwin was later was acquainted with some of the biggest contemporary activists, artists, actors, singers and luminaries of his time, like Nina Simone and Marlon Brando.
Want more? Check out Goodreads' exhaustive list "Best of James Baldwin" list.
Read more: