Is It Ever Appropriate to Wear Shorts to the Office? 12 Style Experts Weigh In.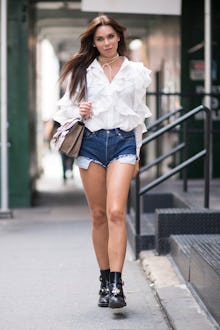 It might be ever-so-tempting to reach for a pair of shorts before heading to the office on 100 degree summer days. In a strict suit-and-tie environment, this might be an obvious no. But what about in a more creative, relaxed workplace? You know, the ones where you see people wearing ripped Levi's, old band tees and Stan Smith kicks on a daily basis? 
We decided to ask 12 fashion editors whether they consider shorts an office faux pas — and if not, what types of shorts they'd recommend. 
Rachael Wang, Fashion Director, Allure
"Shorts may be completely acceptable in a creative industry, especially of the longer variety and when paired with something more covered up on top like a blouse or button-down shirt and nice shoes. I personally do not wear shorts in the office, though I often wear culottes."
But what about rompers? "They feel a bit casual to me, but again, appropriateness completely depends on one's office culture." 
Chrissy Rutherford, Senior Digital Fashion Editor, Harper's BAZAAR 
"There are important rules to follow if you want to wear shorts at work — they should never be too short; mid-thigh is the highest you should go. Your shorts should never look worn or frayed. The safest way to go is sticking to a pair that is tailored, in a sophisticated fabric and a neutral color palette. While I love cutoff shorts, they are definitely not recommended for any office — save them for the weekends."
Erin Sumwalt, Fashion Director, StyleWatch
"Personally, I don't love the idea of people wearing shorts to the office. If you are attempting to stay cool in the summer, you can always find an above-the-knee skirt that is work-appropriate and will help you beat the heat. If you really want to wear shorts to the office, I suggest you choose a pair that have structure or are a bit flow-y and read almost like a skirt." 
Nikki Ogunnaike, Senior Fashion Editor, ELLE.com 
"Try Bermuda shorts or culottes with a crisp button-down for an office-appropriate look, and save denim cut-offs for the weekend."
Lindsay R. Peoples, Fashion Market Editor, The Cut/New York Magazine 
"I don't [wear shorts in the office], but that's because I like culottes instead. They still keep me cool when running around on appointments in the heat, but look more professional. If it's a very casual environment, shorts that are tailored to be right above the knee could be fine. But if you've never seen someone else in your office with shorts on, it's probably not a good idea. Rompers with a blouse underneath and platform sandals could also work as long as they're not too short and ride up." 
Jane Keltner de Valle,  Fashion News Director, Glamour
"Ultimately, you have to gauge what's appropriate for your work environment, and the best way to do that is to look around at what the senior staff there are wearing. My number one rule is that if you'd wear it to the beach, it's a 'no' for the office. So that includes cutoffs or jean shorts of any kind, and anything too short — including miniskirts." 
She added: "Hemlines shouldn't hit more than a few inches above the knee, period. I'm a big believer in the sit test: Sit on a chair in front of a mirror, and if your whole leg is exposed, it's too short for the office."
Sarah Gerrish, Fashion Market Editor, Redbook
"The main thing to keep in mind is if you're showing a good bit of skin on your legs, you should keep the top more conservative. It's all about balance. If you do want to try shorts for work, look for a pair in a dressy fabric or a style that has some structure. Pair them with a classic button down, silky blouse or a blazer. I would not recommend jean shorts or any casual shorts you wear on the weekend."
Kyle Anderson, Market and Accessories Director, Marie Claire
"Paired with a heel, shorts (that aren't too short and are beautifully tailored) would look great in summer months as a skirt substitute. The key is to think of shorts as your favorite skirt. You would wear your favorite skirt at work with a beautiful blouse, a unique belt, fabulous heels or flats, etc. Look for shorts in a length similar to skirts that you would wear to the office, [ones that hit] lower thigh to ones that hit just above the knee."
Kat Collings, Editorial Director, Who What Wear 
"Shorts for the office can be tricky territory, but it's possible to pull it off if you follow a few key ground rules. Longer is better — I wouldn't wear anything that hits above your fingertips when you put your hands at your sides. Consider elevated fabrics like silk. Look for tailored iterations, and be conscious of heel height."
Lori Bergamotto, Style Director, Good Housekeeping 
"I do wear shorts in the office, especially on 85 degree+ days. My go-to pair falls at about the same length as a pencil skirt, so they still feel work appropriate. Mostly, there are ways to dress up shorts and find a pair in an elevated fabric and appropriate length that are fitting for most offices. Shorts that fall above mid-thigh and are in a wrinkle-prone or transparent fabric (we're looking at you, white linen), are definitely not acceptable in the office. Also, denim shorts — no matter how they're styled — will always read casual." 
"If you work in a more casual office environment, shorts can be super chic. They should have a tailored silhouette and a longer length, closer to the knee than the hip. Accessories should be polished — a great ankle strap sandal or pump."
Alexis Bennett, Assistant Style and Beauty Editor, SELF.com
"If you work in a creative atmosphere, like me, you can find a modest pair that you can style with a button-down or even a blazer. I don't like to show any skin up top if my legs are going to be out. Instead of reaching for denim, I like to choose a style with a fancier fabric like leather or crisp poplin, and a baggier silhouette." 
The general consensus seems to be that denim shorts, cutoffs and short-shorts are frowned upon. If want to experiment with shorts, try a longer Bermuda version, a tailored pair with a long-sleeve shirt to balance it out or invest in some culottes. 
And, as Wang expertly summed up, "When in doubt, ask HR." 
Read more: