Is Rio's Water Dangerous? Here's What to Know Amid Brazil's Pollution Crisis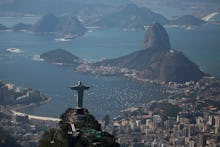 As Rio de Janeiro prepares to kick off the 2016 Summer Olympics and Paralympics on Aug. 5 (local time), a water-quality study commissioned by the Associated Press suggests the government did not follow through on its promise to clean up the waterways in time for the games. 
After initial samples were taken in March 2015 and final samples were taken in June 2016, the study showed waterways in Rio were still teeming with viruses and bacteria that can cause stomach and respiratory illness. One contributing factor is that much of Rio's sewage and trash flows into the water untreated.
"Our biggest plague, our biggest environmental problem, is basic sanitation," said Andrea Correa, the top environmental official in the state of Rio de Janeiro, told the New York Times. 
A problem for tourists and athletes
Experts estimate around half a million tourists will travel to Brazil for the games, according to the Times. And many will likely flock to the beaches between competition, which could be dangerous. 
If you're visiting Rio for the games, "don't put your head under water," virologist Valerie Harwood told AP after looking at the study.
Some athletes won't have a choice. 
In June, the AP study showed that the Rodrigo de Freitas Lagoon, where the Olympic rowing competition will take place, still had about 248 million adenoviruses per liter. Gloria Marina, where the sailing competition will start, had about 37 million per liter. For some perspective, a few thousand adenoviruses per liter would be worrisome by California standards, AP reported. 
The study revealed about 7.22 million rotaviruses per liter in the water off Copacabana beach where open-water swimming will take place. Even sand on the beach contained viruses. Five times during 13 months of testing, AP also found the beach's waters exceeded the California standard of 400 fecal colliforms per 100 milliliters.
Rio has much more relaxed standards, which makes sense because Brazilians have likely built up an immunity to the water, Rik Rasmussen, manager of surface water quality standards at California's State Water Board, told the AP. However, foreign athletes and tourists have not.
Many Olympians are taking precautions, including starting antibiotic regimens and wearing anti-microbial suits.
Here's what the World Health Organization has to say about water safety for tourists and athletes in Rio. It has acknowledged that in some areas of Guanabara Bay, athletes could become ill. The WHO warns against swimming and other activities that carry the risk of ingesting water. "Some athletes, using these sites at times of poor water quality, may suffer from illnesses such as stomach upsets and respiratory tract infections," it says.
Right now, WHO only tests for bacteria, not viruses, because there's not a standardized way to measure virus levels
What about the drinking water?
While beaches and waterways are potentially dangerous, it's less clear whether or not drinking water will be a problem. 
"I have no notice of scientific studies conducted to monitor the quality of tap water there," virologist Fernando Spilki said in an email. "Of course, if you go to official analysis, they will tell that the water is more often OK under Brazilian drinking-water parameters (which are too flaccid). Neither catchment points nor tap water are monitored in Brazil for the presence of contaminants other than thermotolerant coliforms [bacteria]. We have no routine monitoring for viruses, protozoa, Enterococci or any other microorganisms."
There's an easy way to make sure the water is safe, according to environmental microbiologist Ryan Sinclair: Use your nose.
"An easy test for anyone visiting the city is to simply smell the water," Sinclair said in an email. "If it smells like chlorine, you are OK and can rest assured that there is a disinfectant in the water that will likely kill most waterborne pathogens."
Read more: