Dascha Polanco Has the Perfect Response to Designers Refusing to Outfit Her Curvy Frame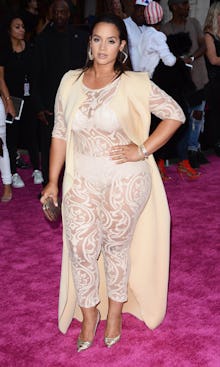 Dascha Polanco has amassed a following of nearly two million followers on Instagram since taking on the role of Dayanara Diaz on four seasons of Orange Is the New Black. But despite her popularity, because she falls between a size 8 and 10, luxury designers don't seem to want to dress her — something they have blatantly told her to her face. 
"I had a situation with a high-end brand the other day where I had personally invested so much money purchasing their items, and I love what they do, so I had my publicist reach out to their PR team," she explained in an interview with Vogue. "Their response was, 'Oh, you're not the sizes we have, not right now, maybe in the future.'"
And this wasn't the first time she'd heard that excuse, sometimes referring to the cost of creating products outside of sample sizes. "I understand that it's business, but still, it's like, really?" she said. "My industry friends, who are clear and honest with me say, 'Girl, they don't have your size, and you're not at that level yet.'" 
As Mic reported in June, Leslie Jones fired up a conversation about the same topic and brought into to the mainstream consciousness when she tweeted that it was "funny" that no designers wanted to create a dress for her to wear to the Ghostbusters premiere. It's an issue that other celebrities who aren't a size 0, 1 or 2, like her co-star in the film Melissa McCarthy, fellow comedian Rebel Wilson and Polanco herself have all previously openly discussed.
"Two Oscars ago, I couldn't find anybody to do a dress for me. I asked five or six designers — very high-level ones who make lots of dresses for people — and they all said no," McCarthy said to Redbook in 2014. 
Christian Siriano stepped in and designed Jones a gorgeous red dress, but the issue pervades. Polanco, who has worn designers like Leanne Marshall and Michael Costello to recent award shows, has found her own solution. She says she won't wear the non-inclusive designers in the future, even if they later decide to dress her. "I will not give them the pleasure," she said. "It's disappointing, but I try to work with up-and-coming designers who will make things for me and who will collaborate with me. People who love my curves and embrace them as much as I do." 
The actress, following in the footsteps of McCarthy with Seven7 and Wilson with Torrid, hopes to start her own clothing line that will "market to everyone, to all women, period." 
"'You're not going to make my shit?" she said. "Well, I'm going to make my own...  Hollywood-wise, people that have influence have to start making the change and speaking up." As seen on her Instagram post about the Vogue article, many have appreciated how Polanco has done just that. 
"Thank you for embracing your curves and taking a stand," one commented. Said another: "Thanks for being such an amazing beautiful person and showing everyone they should always have confidence in themselves."
"I want to break that barrier," Polanco said to Vogue. "Even though I'm a size 8 or 10, I still can look as great as someone who's a size 0."
Read more: