NOAA's "State of the Climate" report reveals the horrifying records we shattered in 2015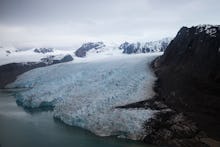 We're pushing the environment closer to the point of no return. 
Sea levels are reaching all-time highs, global temperatures are shattering records and carbon dioxide levels are making history, according to data in a new report compiling research and analysis from 450 scientists.  
The new "state of the climate" report from the National Oceanic and Atmospheric Administration shows that 2015 broke all kinds of weather- and climate-related records, and the consequences could be severe.
"The year 2015 saw the toppling of several symbolic mileposts," the report says.
Here are the major findings:
The Earth experienced its hottest year on record in 2015. The Earth is now a full degree Celsius warmer than pre-Industrial temperatures. And 2016 is already on its way to beat that record.
Greenhouse gas concentration was the highest on record. In 2015, Carbon dioxide over the Mauna Loa summit in Hawaii passed 400 parts per million for the first time ever. 400 ppm is considered the safe threshold for carbon dioxide concentration.
Ocean surface temperatures were the highest on record. The Pacific Ocean reached 2 degrees Celsius above the average, and the Arctic reached 8 degrees Celsius above the average. 
Global sea level rose to a new record high. Global sea level in 2015 was about 2.8 inches above the 1993 average.
More floods and droughts ravaged the planet. The land area of severe drought increased from 8% in 2014 to 14% in 2015.
Arctic sea ice continued to disappear. In 2015, Arctic sea ice cover was the lowest it's been in 37 years of satellite observation.
We're in uncharted territory. 
Scientists aren't sure about the long-term consequences these new records could usher in. 
"The impacts of climate change are no longer subtle," Michael Mann, a climatologist at Penn State, told the Guardian. "They are playing out before us, in real time. The 2015 numbers drive that home."
Read more: