This Waterproof, Sandproof Towel Isn't Magic — But It Sure Comes Close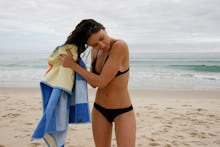 At the beach, towels are more of an annoyance than helpful necessity. They attract buckets of sand, which then end up on your body, in your car and eventually all over the floors of your home. 
But, Baz Brown, the creator and founder of Sandusa beach towels, has the perfect solution, one that might just keep the damn sand pebbles out of your homemade sandwiches while you bask in the sun. 
His product, unlike its boring 100% cotton counterparts on the market, has a water- and sand-proof nylon backing.
"I'm from the Gold Coast in Australia and I love to surf and go to the beach, so before I came up with the Sandusa, my car was always full of sand and constantly had that 'wet dog' smell from the car seats lingering in the sun for days," Brown said in an email. 
After Brown saw two groups at the beach arguing over towel shaking and flying sand, the idea was set in motion. "I thought to myself, how come no one has ever done anything about this?" he said. "That day I started making a prototype and the idea grew from there."
The sand-proof side — which is free of looped towel fibers that would've caused it to pick up sand —  is also water-resistant, unlike the colorful side, which is used like a typical towel. 
Taking the already sorcerous product one step further, customers have told Brown that they are using the towel at the gym, for picnics, at swimming pools, etc. "Sandusa has come to the rescue on more than one occasion," he said. 
So, the more important question here, how much is it? The towel, which is available at Sandusa.com, retails for $50. Seems a bit steep for a towel, no? 
"Some people don't mind having wet sandy cars, too," he said, in response to those who might believe it is too expensive. "In all honesty, we offer a very high quality practical product which has been designed to stand the test of time."
If it'll keep sand out of every crevice of your body and home, it might just be worth it. 
Read more: