21 casual travel items that every jetsetter needs in their suitcase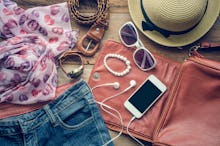 Imagine going on a vacation without having to deal with packing. Can't do so? That's because it's not possible. But one thing's for sure: Packing doesn't need to be as stress-inducing as many make it out to be. 
If you're one to consistently overpack and bring 10 pairs of shoes or the type that forgets necessary items and realizes mid-flight, Mic can't solve this dilemma entirely, but we can help. 
Whether you're heading out to Chicago for the weekend or spending two weeks in Australia, we rounded up comfortable — yet practical — outfits for your suitcase. And better yet, included for each are options at three different price points. 
Swimsuits
Target scalloped swimsuit, $39.99; Asos Raisins cropped bikini top and bottom, $76.50; Chromat Yoko top, $133
In addition to the more obvious beach or pool necessities like a bathing suit, sunglasses, hat and sandals, a cover-up can be the clutch your outfit needs to go from beach-ready to dinner-friendly. Cover-ups, in the forms of rompers or dresses, can also easily be worn as a another outfit, freeing up some space in your luggage. 
Shoes
Steve Madden Daryyn sandal, $59.95; Topshop Willow platform wedge sandals, $80; They New York Two-Tone Low sneakers, $359.00
In addition to sandals in neutral shades, you might want to pack a fancier, heeled pair for nights and dinners out. 
Regardless of your destination, pack a classic pair of sneakers that can be worn walking from city to city, while museum-hopping and in airports. If you don't want to bring your favorite pair of kicks, try a cheaper alternative, like Keds or Vans, that let you maintain your own personal style.
Sunglasses 
Warby Parker Tilley, $95; Ray-Ban white Clubround with silver flash sunglasses, $215; Dior Reflected Two-Tone Aviators, $450
If you don't want to have to worry about your pricier sunnies, H&M, Forever 21 and Topshop have some chic alternative options. 
Tops
Forever 21 embroidered top, $24.90; Asos shell top, $65; Madewell Ace&Jig tank top, $198
In addition to your basic tees and tanks that can be mixed and matched, stick to flowy, lightweight tops that can be worn during a night out, to dinner or during the day, and easily fit into your suitcase or weekender.  
Shorts
Asos River Island shorts, $32.35; Splendid Indigo Buffet Shorts, $68.60; Revolve Java Pom Pom Short, $149
For bottoms, opt for shorts that will not only fit easily into your suitcase without weighing it down (goodbye, denim), but also can be worn with the assortment of basic tops you already have packed. If you're going somewhere that gets chilly at night, try a pair of beach or lounge pants. 
Accessories
For the beach 
TKEES flip flops, $50; Hat Attack stripe tote, $95; Urban Outfitters Kimchi floppy hat, $19.99
Here's a tip: If you're looking for summer accessories, like flip flops, beach bags or hats, for an upcoming winter vacation or a trip for next summer, the best time to buy is the end of August. Yay sales! 
For any and all travel
Fossil Tailor light brown leather watch, $125; Urbanears Reimers earbuds, $49; Ankit eye portable charger, $19.99
There are some accessories that should be on the top of your checklist no matter where you are headed. Just don't forget your passport, socks and underwear — but that's a given. 
Or is it?
Read more: