Iris Apfel Emojis Are Here — Despite the Fashion Icon Not Knowing What an Emoji Is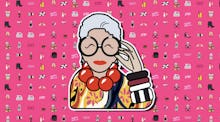 Iris Apfel spent a portion of her life traveling the world and securing fabrics for the White House. In 2005, her exuberant style was highlighted by the Costume Institute at the Metropolitan Museum of Art. Ten years later she was the subject of the Albert Maysles-directed documentary, Iris. And now, at the ripe age of 94, the self-described "geriatric starlet" is showing no signs of slowing down. 
In January, she designed a health-monitoring wearable collection, and Wednesday, in collaboration with her upcoming "mod" clothing line for Macy's, "Iris Meets I.N.C." she released her very own set of emojis... er... Irisojis. 
"I didn't know what an emoji was, they had to explain it to me," she said in an interview. "I think they're a little silly but they're good fun, and everyone really seems to like them." 
Apfel worked with Snaps, a mobile message marketing platform that has also designed for brands like Dove and Starbucks, to design the emoji keyboard. And, of course, it's full of her signature quotes, glasses and items from the new clothing collection.
 "If my cartoon face makes people happy, then why not?" 
"It was a little strange to see all these cartoon versions of my face, but I suppose it's generational," she added. "If my cartoon face makes people happy, then why not?" 
Sorry Kim Kardashian West, it seems that Kimojis have some steep — and fashion-forward — competition. 
The "Iris Meets I.N.C." keyboard, which consists of 42 emojis, 12 stickers and three GIFs is available for free download on iOS and Android. 
Read more: