The Origin Story of Jared Leto's Head-Turning "Suicide Squad" Premiere Look Is Going Viral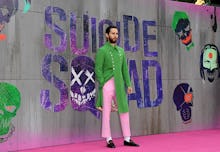 Big names like Will Smith, Margot Robbie, Ben Affleck and Cara Delevingne walked the pink carpet last night for the European premiere of the highly-anticipated DC Comics film Suicide Squad. But, it was Jared Leto, in a bright green coat and gum-ball pink pants, that truly stole the show. 
Leto first eyed the head-to-toe Gucci look when he sat front row at the brand's Spring/Summer 2017 runway show during Milan Men's Fashion Week in June. Someone managed to capture his face the moment the model walked past him, and it's since gone viral. 
Why? He looks like a little kid that just saw ice cream for the first time. (Or, just a really amazing coat that he had to get his hands on.) 
He finally got to wear the look on Wednesday in London, and Twitter users were quick to compare the 44-year-old to a long list of random objects and characters from garden gnomes to the Fairy Oddparents' Cosmo and Wanda. 
While others loved his color-mixing outfit choice. Or as Muz said, he still looks "manly and fine AF." 
And then there were some that were not feeling his look and would just prefer that he take it off. 
Leto, like the fellow luscious-haired celeb Harry Styles, has been spotted in Gucci on numerous occasions as of late. 
On Monday, he chose another coat straight off the brand's Spring/Summer 2017 runway. In February, he wore a black suit and flower pin from Gucci's cruise 2016 show to the Oscars and brought the fashion house's creative director Alessandro Michele as his date. And in December, he was announced as the new face of Gucci's Guilty fragrance. 
"The relationship between Jared and Gucci is a very natural and organic one," Leto's stylist Micaela Erlanger told Billboard in February. "Jared has a sense of style that is very much complimented by Alessandro's aesthetic." 
If only critics had the same look on their face when they reviewed Suicide Squad. 
August 4, 2016, 1:25 p.m.: In an interview with Vanity Fair, Leto explained the real reason why he was making the gleeful expression at the green coat. 
"The thing about the photo is — I'm going to be honest with you — I was actually making a face at someone across the runway," Leto said. "I have that feeling with most things [Gucci] makes because they make such beautiful things. But I was actually goofing off with a friend, and you can't actually tell from the picture."
He added: "Sorry to ruin your meme. Perception versus reality."
Read more: