Hillary Clinton Addresses a Roomful of Black and Latino Journalists in Washington, DC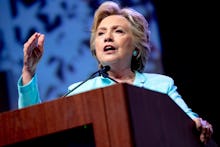 WASHINGTON, D.C. — Hillary Clinton says the current president deserves credit for digging the nation out of an economic crater.
But should she be elected the next commander-in-chief in the fall, the former secretary of state said her economic agenda would actually target racial minorities with socioeconomic opportunities. Comprehensive immigration reform would also happen under her watch, the Democratic presidential candidate told a joint convention of the National Association of Black Journalists and the National Association of Hispanic Journalists on Friday.
During what organizers here billed as the largest-ever presidential press conference for primarily black and Hispanic reporters, Clinton said she does not take the black and Latino voting blocs for granted and pledged to defend any racial progress made under the nation's first black president. She also saluted the historic role journalists of color have played in driving social and political change from majority-white newsrooms.
"We've got to have the will and the plans, together, to move forward," Clinton told hundreds of attendees in a ballroom of the Washington Marriott Wardman Park hotel. She said her plans would include "a comprehensive new commitment to African-American and Latino communities to make serious, sustained investments and create more good-paying jobs."
Clinton likened the struggle for economic equality in minority communities to the struggles of the civil rights movement. "Rosa Parks opened up every seat on the bus," she said, referring to the civil rights icon who inspired a bus boycott in Alabama. "Now we've got to expand economic opportunity so that everybody can afford the fare." 
_____________________________________________
Read more: 
Her remarks to the convention come just a week after she became the first female presidential nominee of a major political party. Some attendees said they hoped Clinton would draw inspiration from the display of diversity and address the elephants in the room: the nation's rash of police shooting deaths of black citizens, which helped birth the Movement for Black Lives, and its broken immigration system, which has kept undocumented immigrants in a state of limbo.
Clinton didn't address policing reform in her opening remarks, and no one posed a question about it. In response to a moderator's question about immigration reform, Clinton pledged to continue actions Barack Obama took to at least temporarily spare thousands of undocumented immigrants from deportation, known as deferred action, even though they are tied up in legal challenges from Republican leaders.
"We are not going to be deporting hardworking people and breaking up families," Clinton said, adding that her administration would reexamine the federal deportation priorities and end the use of private detention centers for undocumented people.
The last time Clinton officially addressed a gathering of minority journalists was in 2007, during NABJ's convention in Las Vegas, where she and Obama attended as candidates for the Democratic presidential nomination. Back then, Clinton told black journalists she was concerned about unemployment among young men of color and how they disproportionately encounter the nation's criminal justice system. She took questions after opening remarks.
Minority journalist associations have historically extended convention speaking invitations to high-ranking government officials and presidential candidates, Sarah Glover, president of NABJ, told attendees Friday. For public figures, it's an opportunity to showcase their literacy on issues of race, equality and civil rights.
In 2004, incumbent President George W. Bush and his presidential election challenger U.S. Sen. John Kerry addressed the Unity: Journalists of Color convention in Washington, which included black and Hispanic journalists as well as Asian-Americans and Native Americans. Bush's answer to a question about Native American tribal sovereignty elicited some snickering from the attendees and sparked chatter among pundits about minority journalists' objectivity on stories of race in politics.
On Friday, Clinton seemed to be on her toes as she tackled questions about the value of the Latino voting bloc to the Democratic party, the emails scandal and whether racism and xenophobia were driving the campaign of her Republican presidential challenger, Donald Trump. During a question-and-answer period, organizers seemed to call on an equal number of black and Hispanic journalists to pose queries to Clinton.
Organizers said Trump declined their invitation to speak at the gathering.
Leaders of the black and Hispanic journalist associations said Clinton's appearance at the convention represented an opportunity for access to the candidate that minority journalists aren't typically getting during presidential election cycles. The latest newsroom diversity census from the American Society of News Editors showed the percentage of racial minorities at newspapers remained relatively steady at nearly 13% in 2014 — even though, as of July 2012, nonwhite people made up almost 40% of the U.S. population, the Associated Press reported in 2013.
Among the approximately 32,900 full-time journalists at about 1,400 daily newspapers, 4.74% are black, 4.19% are Hispanic, 2.8% are Asian-American and less than half of a percent are Native American, the ASNE data showed. Similar data for radio and TV broadcasters was not available.
Mekahlo Medina, the president of NAHJ, told event attendees that journalists of color are needed in the mainstream, so that they have an equitable place in the presidential press corps.
"We are the voice in newsrooms for those forced to be silent," he said ahead of Clinton's press conference. "We stand up for those who have been knocked down, but not knocked out. We fight not only to matter, but to be counted and to belong."
In her remarks Friday, Clinton called out the names of journalists of color that "denounce injustice" and took stands against the powerful. "I think journalists have a special responsibility to our democracy in a time like this," she said. "I hope you'll keep calling it like you see it."