'RuPaul's Drag Race All-Stars 2' premiere recap: Roxxxy Andrews rocks and Tatianna talks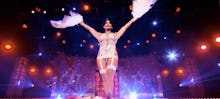 Fasten your seat belts, ladies and gentlemen: This Drag Race is not for the weak of heart.
Thursday night's premiere of RuPaul's Drag Race All Stars 2, the four-years-later sequel to the controversial first season, brings 10 of RuPaul's finest and fiercest together to battle once more. But it's a different kind of battlefield this time around — one that proves beneficial to some queens, while tripping others up right out of the starting gate.
(Editor's note: Spoilers ahead for the premiere of RuPaul's Drag Race All Stars 2, as well as for the second through seventh seasons of RuPaul's Drag Race.)
Instead of the show's traditional format — one queen wins the main challenge, two queens fall into the bottom two and have to lip sync for their lives, one queen goes home — RuPaul chose to flip the format on its head this season. The top two performers in a given challenge will lip sync for their legacy instead. The winner of that lip sync is rewarded with $10,000, but must also choose which of the bottom three goes home. 
That's right: Once Ru picks the top two, the bottom three and the winner of the lip sync, her work is complete. Past that, it's the winning queen's job to send someone home.
In the premiere episode, the 10 queens face off in a talent show that favors the unconventional. Roxxxy Andrews (season five) and Tatianna (season two) score the highest for burlesque and spoken word acts, respectively. Two singers (Adore Delano from season six and Phi Phi O'Hara from season four) and a dancer (Coco Montrese, season five) wind up in the bottom.
Who wins the lip sync? Who does the winner send home? Read on to find out.
As each queen enters the workroom and meets her competitors, you can practically see Drag Race story editors' minds churning. There are:
• queens declaring they're here to make up for previous bad behavior on the show (Roxxxy, Phi Phi) 
• queens who have evolved their drag and want to show that growth off (Tatianna, Phi Phi again)
• queens seeking retribution for lesser-loved seasons (Ginger Minj from season seven, Tatianna to an extent) 
• queens seeking to grow their brands (Alyssa Edwards from season five)
• queens seemingly without any particular reason to be here (Coco, Adore)
Then there are some who are wholly committed to winning. That would be Alaska and Detox from season five, plus Katya from season seven. The others are distracted with their rudemption stories; these three are here to win. Katya even points it out in the episode: "Some of the girls might be more focused on rehabilitating their reputation rather than just winning the competition."
Does this mean it's all sealed up, that we know our final three already? Not necessarily. Wanting something and accomplishing that aren't the same thing. But it's interesting to see the story come together from the very outset. Sure enough, Coco and Adore wind up in the bottom three (with Phi Phi).
Tatianna, Phi Phi and Roxxxy's motivations are the most intriguing. All were their seasons' villains, each feuding with the eventual winners (Tati with Tyra Sanchez, Phi Phi with Sharon Needles and Roxxxy with Jinkx Monsoon). Both Phi Phi and Roxxxy regret their actions, Roxxxy explaining that her fear of Jinkx winning led to her playing "mind games" with the eventual winner. 
"Jinkx was so close to the crown," Roxxxy says, explaining her mindset then. "How am I gonna get her? I'm obviously not as funny as she is. I'm obviously not as smart as she is. I have to do something."
Tati doesn't show remorse, though; in fact, she doesn't even mention the girls from her season. She's here to prove herself as she is now, without considering the past. She also remains as genetically blessed both in and out of drag as ever.
It's to All Stars 2's credit that there are no drama reruns happening here. In addition to these three queens moving beyond their pasts, there's also no bad blood remaining between former rivals Alyssa and Coco. "We have buried the hatch," Alyssa says, butchering that particular idiom in a way only Alyssa can.
Alyssa generally remains removed from the drama this time around, which makes sense. Her web series Alyssa's Secret is a smash. She's constantly booked all over the country. She has nothing to gain from slinging mud. Her performance in the challenge is a variety lip sync act that only lands her in the safe group, alongside a drum-playing Detox and Katya doing gymnastics, but will surely sell some tickets to her shows.
In fact, none of the girls start drama with one another. They've worked together in the outside world, and refer to each other frequently as sisters. Instead, the tension comes during judging and during Roxxxy and Tatianna's deliberations (the latter of which take the place of after-show Untucked this season).
Head judge Michelle Visage, who travels with many of these girls on the Drag Race Battle of the Seasons tour, promises that she won't be pulling punches. "This is the best of the best," she says. "I am going to break down all the tea. If you get hurt, get over it and up your game." Her bluntness clearly throws even the safe queens for a loop.
Michelle particularly hammers Adore, laying into her costuming choices and cutting off Adore's excuses before she can even offer them. "Do you care?" she asks. "Because everything's blasé."
We learn later from Detox during deliberations that Adore and Michelle have a contentious dynamic on tour, Michelle regularly tearing Adore's outfits apart. Everyone gets tough critiques, but Adore seems especially beaten down by them. When talking with Roxxxy, she almost gives up, saying she doesn't think she belongs on the show. Roxxxy reassures her that she's just having a rough go of it.
It's nice to see the formerly villainous Roxxxy in a supportive role. For all the queens seeking redemption, she and Tatianna are the only ones getting it so far — albeit in different ways.
Phi Phi panics when her a cappella performance gets read for being riddled with bum notes, and even starts to revert to some of her old bad behavior when talking with Roxxxy. Instead of emphasizing why she deserves to stay, she points out that the judges were harder on Coco and Adore. Of the three, Phi Phi has the most to prove. "It took a lot of work to show people I'm professional," she says earlier in the premiere. "I want the world to see that I have changed."
Coco, meanwhile, is treated as something of an afterthought the whole episode. The judges are confused by her Old Hollywood-style dance routine, but they're nowhere near as harsh as they are with the other bottom girls. Yet even as she sits on the chopping block, the narration is mostly handed over to Adore and Phi Phi (especially Adore). Even Coco's conversation with Roxxxy feels truncated and surprisingly shallow for the two self-described lifelong friends.
Ginger and Alaska sit somewhere between the top and bottom. Ginger gets critiqued on her outfit, but plays it off much better than Adore does. "When you wear a palazzo jumpsuit in that kind of stretch jersey ... I couldn't take my eyes off your vagina," Michelle says. Ginger's response? "Thank you!" The laughter it inspires seems to save Ginger from danger on the spot.
Alaska, on the other hand, almost lands in the top two for her performance, falling just short. She enters this competition as the frontrunner, even winning the Reading is Fundamental mini-challenge. Yet she and fellow top draft pick Katya both feel removed from the action this episode. That's to Drag Race's credit; the last All Stars season felt lopsided toward eventual winner Chad Michaels. This feels like anyone's game. (Well, anyone's but Coco's.)
After their deliberations, Roxxxy and Tatianna choose their picks for who should go home. They then lip sync for their legacy to Taylor Swift's "Shake It Off." Roxxxy takes the win, and it's a good call on Ru's part. Tatianna's movements are graceful, but Roxxxy feels more connected to the song itself. 
That said, in the old format, Tatianna would have won this week's challenge. Her spoken word, a performance of a funny-but-surprisingly-smart piece about her genitalia, was quite commanding. Tatianna is already proving that even a girl who hasn't been on in six years still has plenty of tricks up her sleeve.
For her victory, Roxxxy wins $10,000 — "My biggest tip yet!" she jokes — and has to send one of the bottom three home. She chooses Coco, explaining that she made the choice by putting herself in Ru's shoes — though somewhat surprising considering they hail from the same season.
But it's not over! Ru appeared on the video screen in the workroom to give Coco one last message: She has a chance for revenge. What does that mean? For now, only Ru knows.
One queen down, eight to go before we learn who joins Chad Michaels in the Drag Race hall of fame. The next episode airs next Thursday at 8 p.m. Eastern on Logo and VH1.