At Last, the Next Big Lip Kit Trend Has Nothing to Do With Kylie Jenner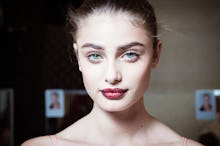 Legendary makeup artist Pat McGrath, the woman often responsible for much of the beauty backstage at fashion week, is launching limited edition lip kits — ahem, "lip paraphernalia" — and unlike Kylie Jenner's, they're innovative and not seemingly near-identical copies of another beauty product already on the market.
The collection, titled Lust 004, is made up of three separate lip kits: Each kit retails for $60 and contains two matte lipsticks, a vinyl gloss, metallic gold pigment and microfine glitter.  
Yes, that glitter is meant to be smothered all over your lips. 
If you are still not convinced, even with the thought of glitter, this is what the product looks when applied, as seen at the Atelier Versace fall couture runway show during Paris Fashion Week in July.
McGrath was also the mastermind behind Rihanna's bedazzled lips on the September cover of W. 
The makeup artist is selling the six shades of lipsticks separately from the kit for $25 each — or you can purchase every single product together for $150. All are available on Aug. 30 on her website. 
But fair warning: Like Jenner's, McGrath's products have a tendency to crash her website and sell out. And once these one-of-a-kind items are sold out, they're gone for good. If you're ready to be a part of the sparkle-and-glow trend, you might want to be at your computer at 12 p.m. EST on the dot. 
Sorry, Kylie. 
Read more: