A man on a train tried to shame a passenger for wearing a dress — and got dragged to filth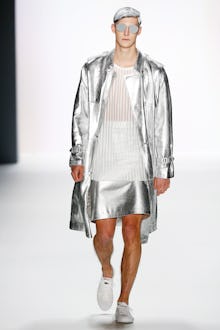 British train company TransPennine Express often fields delay or employee-related complaints on its Twitter. But on Thursday, they received a comment about a passengers outfit. No, said person wasn't wearing something offensive, or wearing nothing at all. They were in a dress, and apparently, TPE needed to do something about it. 
"Evening @TPExpressTrains - 'Guy' on the seat opposite me is wearing stockings and a dress — what is that all about??" he asked. 
Instead of ignoring the question, TPE's customer service epically responded with, "Probably something to do with it being the 21st century now. As long as they have a ticket, everyone is welcome on our trains." 
And many have taken to Twitter to respond to Cocker and praise TPE for the brilliant tweet. Some have even posted images of themselves in dresses. 
It's unknown the gender that said person in the dress and stockings on the train identifies as, but even so, especially as of late, men have begun to embrace the skirt and dress trend.
Now, designers from Givenchy to Rick Owens are walking male models down the runway in these items. And celebrities like Jaden Smith and Kanye West have been embracing the look for years. 
Just last month, Smith explained to Nylon why he was trying to normalize men in skirts. "The world is going to keep bashing me for whatever I do, and I'm going to keep not caring," he said. "I'm going to take most of the blows for my fellow MSFTS. So, you know, in five years when a kid goes to school wearing a skirt, he won't get beat up and kids won't get mad at him." 
And this sentiment becomes even more necessary when someone on a train is shamed, by a complete stranger, for what they're wearing.
As Twitter user @Kevsie so eloquently stated, "sad people are still living in the Stone Age." At least the TPE isn't. 
Read more: