Here's Why There Are So Many Fashion Brands Popping Up In the 'Kendall & Kylie' Game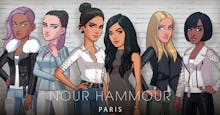 With over 42 million downloads and $100 million worth of revenue, app developer Glu Mobile tried to replicate the success it had with the Kim Kardashian: Hollywood game when it launched a Kendall and Kylie Jenner version in February 2016. 
Although the Kendall & Kylie game only has about 10 million downloads so far, there is one very blatant similarity between the two applications: fashion partnerships. 
From PacSun and Paris-based luxury label Nour Hammour to PopSugar's e-commerce website ShopStyle, you can't open up any daily gift boxes or shop for a new outfit to dress your character in without seeing an assortment of real life brands in digital form — and this is no accident.
In fact, purchasing fake clothing items within the app has helped raise awareness and sell actual pieces. 
According to Glu's chief revenue officer Chris Akhavan, the game developer works with Kendall and Kylie to choose trendy items of clothing that would be mutually beneficial for the app, the players and the brands involved. 
"As a company, we're constantly looking for ways to differentiate the game and provide greater player value," Akhavan said in an interview. "We've done that by adding brands that Kendall and Kylie interact with in their daily lives and resonate with their fanbase. Players engage with these brands as they naturally progress through game play, which adds authenticity to the overall experience." 
Nour Hammour, a label known for its luxury leather jackets founded in 2013 by Nour Hammour and Erin Conry Webb, gained extensive traction with the help of the famous sisters. Kendall originally discovered the brand through mutual friends. 
"It was very organic," Webb explained in an email about the how the collaboration happened. "Kendall has been a fan of Nour Hammour since our first year. She even called out our 'Erin' jacket on her personal blog as her favorite leather jacket. We were approached in 2015 to participate in the game and we thought, why not?" 
In the four months since the brand became part of the game, Nour Hammour's website traffic has grown by 95%, according to statistics provided to Mic. The company has also gained over 11,000 followers on social media. 
ShopStyle, an internet destination where people can purchase clothing and accessories from a myriad of brands, has also seen a positive response within the few months its been part of the game. "We have seen increases in our mobile app and downloads," Melissa Davis, the executive vice president and general manager of ShopStyle, said in an interview when asked if she'd seen a shift in sales since partnering.
Brands within the game range from Loeffler Randall and Nicole Miller to Yumi Kim and Cynthia Rowley. According to Davis, the Jenners' game was a natural fit for ShopStyle. 
"We were impressed with what Glu did with the Kim Kardashian game and obviously big fans of Kendall and Kylie and [we thought] they aligned well, as influencers and fashion icons, with the ShopStyle brand," she said. 
As Davis explained, ShopStyle's audience is increasingly moving towards mobile, a widespread trend throughout the fashion industry. This makes apps, like the Jenners', or even Kardashian West's, that much more attractive to brands. 
"In the long term, I could envision a world where the online penetration of fashion sales is very high, maybe around 50%," Michelle Grant, the head of retailing at market research firm Euromonitor said in an interview. "Your mobile device is always on you and people check it hundreds of times a day." 
"Shoppers, especially fashionistas, have the world of fashion at their fingertips constantly," Grant added. "Technology is making it easier to buy from mobile devices, so it's no surprise that a fair amount of the browsing is converting to purchases." 
The authenticity of the game leads to a monkey-see-monkey-do effect. Within the app itself, players build careers in the fashion and media industry by gaining social media followers — in other words, they try to become influencers like Kendall and Kylie. 
Seen by the way items that the sisters have worn have sold out, it's no secret that people want to emulate them. Seeing how great a Yumi Kim dress looks like on your influencer character can be likened to seeing Kendall in a Nour Hammour coat in People magazine. 
As Akhavan said, "Players aspire to be models, bloggers and social media stars guided by their friends Kendall and Kylie Jenner." And some times this aspiration jumps out of the phone and into real life in the form of a $210 Cynthia Rowley wetsuit.