The Ultimate Guide to Choosing a Red Lipstick for Your Skin Tone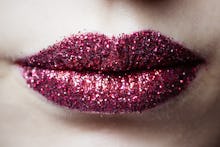 Fucked up history aside, red lipstick is a signature shade for many, including celebrities such as Taylor Swift and Gwen Stefani. While everyone has the right to wear whatever the hell they want — including any and all shades of lipstick — there are some colors that might look better than others, depending on your skin tone. 
"The key is to know your skin's undertone, which will allow you to pick a color that flatters your skin," Erin Guth — who's previously worked with Zendaya, Bella Thorne and Miley Cyrus — said in an interview. "An easy trick to decide on your undertone is to look at the veins in your wrist.  If your veins appear blueish, you have a cool undertone. If they seem greenish, then you have a warm undertone. Do they look kind of in-between? Then you likely have a neutral undertone."
According to Guth, people with pale, fair skin look best with a blue-based or pink-based red lip because the pink undertones "create a vibrancy." For olive complexions, she recommended warmer reds that have a slight orange base. She added dark and medium skin tones can "play with many shades." 
Mic asked an assortment of celebrity makeup artists what shades they would recommend for different skin tones based off the Fitzpatrick scale. As Violet Grey brand ambassador and makeup artist Kira Nasrat said in an interview, "Not all reds are created equal, and that's a great thing!" Here are some products the artists recommend. 
Light, pale white
"I always favor a solid ruby red lipstick," said Daniel Avilán, who's worked with celebrities such as Rosie Huntington-Whiteley and Karla Souza. "Ruby Woo from MAC is my favorite of all time." 
Tasha Reiko Brown — who calls Amandla Stenberg, Mindy Kaling and John Legend clients — suggested lighter reds that have a slight orange base, such as YSL's Rouge Pur Couture lipstick in Le Orange or NARS' velvet matte lip pencil in Dragon Girl. 
White, fair
"True reds enhance fair skin tones," Samuel Paul — who's previously worked with Ashley Graham, Cara Delevingne and America Ferrera — said in an interview. He recommended MAC's classic matte Red Rock.
Amber Dreadon — whose celeb clientele includes Lorde, Katy Perry and Haim — likes a classic medium red that's not too blue or too orange. Her favorite is Marc Jacobs' Goddess.
Lauren O' Leary, who's worked with Kaia and Presley Gerber, chose MAC's coral-red Lady Danger. 
Medium, white to olive
"Blue undertones can sometimes turn pinkish on medium skin," Brown said. "Midtone cherry reds shine here. It's the perfect classic red and it's foolproof. Try it in a matte for a more modern approach to the classic style." She suggested Revlon's creme lipstick in Cherries in the Snow. 
John Stapleton, a MAC senior artist who has done makeup for Kelly Osbourne, said, "Blue-based reds will pop; yellow-based reds will look harmonious. Or, try throwing on a brick-based red that lives in the brown family." His recommendation: VIVA GLAM I for a "throwback 1940s vibe." 
Kim White, who's worked with Amy Schumer and Rita Ora, preferred NARS' Jungle Red.
Olive, moderate brown
Paul suggested an orange-red color like NARS' semi-matte Heat Wave. White often goes for CoverGirl's Red Siren. 
As for Andrew Sotomayor, who's made up clients for appearances on shows like Today and Project Runway, he opts for a lip paint with a slightly cool tone. "I like the contrast of the cool-toned cherry red that looks richer against caramel skin tone," he said. His choice: Hard Candy lip mousse in Cherry Blossom.
Brown, dark brown
"Think sunset," Stapleton said. "Line lips with a red pencil and fill in with an orange-based lipstick." His go-to: MAC Vamplify in Flash Drive. 
Dreadon said, "Pair a fuchsia red like Kat Von D's Bachelorette lipstick with a more blue-based lip pencil." 
Bobbi Brown's creamy lip color in Raisin Berry is one of Sotomayor's favorite lipsticks. "It's a gorgeous shade of plum that just enhances the brown and pink tones in your lips without creating an overly opaque look that erases your natural tones completely," he said. 
Black, very dark brown
"Deep, bold reds in burgundy, brick or berry shades look amazing on dark skin tones," Brown said. "To keep some bright colors from looking too jarring you can tone it down with a deep lip liner till you get the color you like." Try Revlon's creme lipstick in Black Cherry. 
If you're looking for another shade, White opts for ColourPop's Avenue, and O'Leary likes MAC's Dare You. 
Out of all the recommendations from these makeup artists, one shade kept popping up: MAC's Ruby Woo. So if we had to suggest one universal shade for all skin tones, it seems that would be the best bet. Plus, it's Taylor Swift's favorite. 
In the end, if you're not sure which shade to choose, Guth said you should try on a few shades, take a selfie and decide what looks best. "Ultimately, you should wear what you feel best in," she said. "When it comes to makeup, you don't need to follow rules — you should express yourself."