Penis and Vagina Highlighters Are Here — So Now Your Makeup Can Get Laid More Than You Do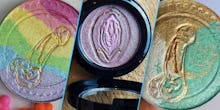 What would make the viral rainbow highlighter that much better? Adding a penis or vagina to it, of course. 
Appropriately named make-up company Bitch Slap Cosmetics — whose motto is "Bitches Made Flawless" — is producing palettes imprinted with realistic-looking, if not quite realistically-sized, genitals. 
At first, the company had only made penis highlighters called "Deep Throat," but decided to create vagina versions, or Vajj, because gender equality is real. "We have gotten so many emails on a making a Vagina wheel and it's coming," the company wrote on Instagram with the pun fully intended.
This isn't the brand's first experimentation with penises. The company also sells an assortment of penis lip products, or "big daddy" lipstick, as the company calls it. These are similar to Mushroom's lipsdicks that went viral in May. 
"Yes we do have a raw and edgy approach to cosmetics," BSC's website reads. "We are hoping through this line, to inspire those who are different to stand tall and break the cliches." 
In addition to the nether regions, BSC has created highlighters with the likenesses of Prince and David Bowie, as well as Pikachu, a booty, a bikini body, weed paraphernalia and, most importantly, a middle finger. 
Most of the vagina and penis highlighters are currently available to pre-order for $20 a piece. According to its website, they will take about one month to arrive. How lucky to be alive at a time when genitalia has made its way into our makeup palettes.
Read more: