Nate Parker Explains Why Playing Nat Turner in 'Birth of a Nation' Was So Important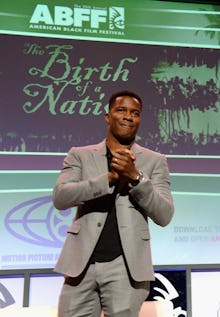 WASHINGTON, D.C. — Racial diversity among actors in television and film has progressed since actor Nate Parker was a boy, he told an audience of black journalists here previewing his forthcoming movie, The Birth of a Nation, on Saturday, at Washington D.C.'s National Associations of Black Journalists convention.
Yet for all that progress in representation, there are still massive holes in the Hollywood canon — including the story of Nat Turner, the black American slave who led a deadly rebellion against white slaveowners in Virginia. The Birth of a Nation, Parker's film out in October, is about Turner's life.
Alongside cast members Aja Naomi King, Gabrielle Union, Colman Domingo and Aunjanue Ellis, Parker spoke to attendees at the convention about what it took to write, finance and direct a movie that devastatingly few Hollywood rainmakers had any interest in making.
Parker explained that playing the role of Turner was personally important to him largely because he wanted to give something back.
Nat Turner gave me a way to take that chip on my shoulder and centralize it into action. [I thought,] give young people, give your peers, give this generation something that you did not have growing up. I didn't have a Nat Turner. I had Webster. I had Different Strokes. I just had black kids that got adopted by white people. I didn't have anybody that I could look up to and be a representation of humanity, a representation of resistance, a representation of love, a representation of genius, a representation of Africa, and none of them be a contradiction.
Parker described putting the film together as a difficult process. The cast and crew had just 27 days to complete all shooting on the project, or they'd risk losing control of it to the financial backers, he said. The director and actor said that it was his reliance on faith that carried him through the project. 
In January, the film set a record at the Sundance Film Festival, when Fox Searchlight purchased rights to the film for $17.5 million. 
The Birth of a Nation will debut nationwide Oct. 7.
Read more: