Kim Kardashian West Calls Kylie Jenner's Puma Campaign "A Conflict of Interest"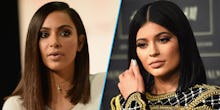 In February, Kanye West shut down any and all rumors that his sister-in-law Kylie Jenner would be partnering with Puma. "1,000% there will never be a Kylie Puma anything," he wrote on Twitter. A few weeks later, her deal with the athletic brand was confirmed, leading the internet to say, "Whaa?" 
Finally, on Sunday night's episode of Keeping Up With the Kardashians, the Puma/Kanye/Kylie debacle of 2016 was fully explained. As it turns out, momager Kris tried to ink a deal with the same people at Adidas that Kanye had his Yeezy deal with. When the brand didn't have enough of a budget for both Kylie and Kanye, Kylie and Kris decided to accept an offer from Puma instead.
"Once it was announced, Kanye found out," Kim said at dinner in Cuba with her sisters. Kanye then likened Kylie's Puma deal to him starting a reality show on Sunday nights and not telling anyone.
"[It's like if] I did a couple shows with y'all, just two shows with y'all first, so people saw me and were all, 'Aw, he's cool on camera," Kanye said. "And somebody offered me a deal, and I, like, did it and didn't tell none of y'all." 
Khloé then added: "Mom and or Kylie should have presented it to Kanye first," which prompted Kim to agree, responding, "100%." 
In the confessional, Kim further explained that Kanye was so angered by the situation because he had Kylie walk in two of his Adidas Originals x Yeezy fashion shows.  
"[Kanye] really believed in her as part of his brand," Kim said. "I understand that my mom's job as a manager is to get us deals, but sometimes I feel like everything has to be really carefully played out, and I feel like that was a conflict of interest." 
 "I feel like that was a conflict of interest." 
The drama didn't stay in Cuba. After being asked by friends if Kanye was pissed about the Puma deal, Kim decided to discuss the situation directly with Kris. 
"I run a business and the biggest part of my business is making sure that I really pay attention to what works for everyone involved," Kris responded. "Sometimes it's about a business decision, which is completely not personal." 
After Kim voiced that she just would've liked a heads up, Kris said, "Sometimes I get ahead of myself too, and sometimes I forget to communicate the way I should." 
But in the end, Kris is really happy with the way things worked out: "It's perfect because Kylie can do her thing, she's so excited to be with the brand... It all worked out for the best." 
Glad this discussion is over with. For now. 
Read more: