Victoria's Secret Is Once Again Accused of Retouching — This Time for a Floating Elbow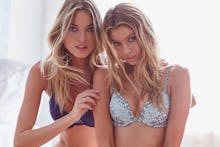 Thanks to an anonymous Victoria's Secret retoucher, we already knew its models' breasts, nipples, armpits and pubes were fair game for digital alteration and "meat" was often added to their bodies post-photoshoot. 
And now, after seeing a recent campaign image featuring Martha Hunt and Stella Maxwell, some customers believe the brand is also badly editing its model's arms. Oh, and, there just happens to be a random floating elbow sticking out.
"What is wrong with her arm??? #photoshopfail," one commented on Instagram about Hunt's right arm. "Lovin the Photoshop on the left," wrote another. Yet another: "That is a long arm look where the elbow is."  
The comments on Facebook were similar with some writing things like, "The Photoshopping on the arm of the girl on the left is concerning" and "My first thought was wow what is wrong with that arm." 
It's possible that the cause of the so-called retouching was bad lighting or an awkward angle. But, even so, Victoria's Secret has faced backlash for similar — but more obvious — digital alterations in the past. Most recently, in September, it seemed the brand had removed half of a model's butt cheek.  
Perhaps Victoria's Secret should consider using women of different sizes and builds instead of making its models smaller and therefore causing these #PhotoshopFails. 
As one person simply asked on Instagram, "Can we see a plus-size model anytime soon?" 
Read more: