Want to See Diversity Done Right? Look No Further Than Target's "Dear Jeans" Campaign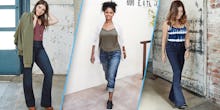 In its new "Dear Jeans" video campaign, Target is acknowledging something that is seemingly obvious but often ignored when it comes to the fashion industry: Women, whether curvy, thin, short or tall, wear jeans and deserve to find the perfect pair of denim. 
Target asked curve model Barbie Ferreira, DJ Brittany Sky, dancer and vlogger Megan Batoon, writer Alex Elle and author and vlogger Dulce Candy to write a letter about the fit struggles that come with hunting down said perfect pair. 
"For as long as I remember, you insist on not fitting my hips as tight as my waist," Ferreira said in the video. She is encouraging women to try styles that they might never have worn before. 
"I thought that flares were going to be like, I am never going to wear them. And then that's all I wear now," Ferreira said.
Candy too had strayed away from flares. "I like jeans that accentuate my body," she said. "I usually never go for a flare jean but I'm actually really surprised."
Sky prefers distressed options because "they are rough around the edges and soft on the inside." She added: "Kind of like me."  
When Batoon isn't dancing, she opts for high-waisted pairs. "I feel like [it's] a stomach hug of a jean," she said.
And Elle is going to rock any and all pairs she puts on. "When I am getting dressed in the morning, I try and celebrate myself in a way that makes me confident about taking on the day," she said. 
Target has time and time again shown what inclusive body-positive ads can look like. For its past two swim campaigns in 2015 and 2016, it enlisted models and influencers of all different shapes and sizes. 
Since 2014, Target has been working with bloggers Nicolette Mason, Garner Style and Gabi Fresh for its Ava + Viv plus-size line. And the "Dear Jeans" video is no different. 
"Looks change, they fade," Ferreira said. "But you're positivity, and how you carry yourself is forever."
Watch the full video below: