'Woman Cards' Are a Hit for Brother-Sister Duo Denouncing Donald Trump's Sexism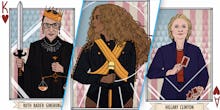 Of all the words used to describe Republican presidential candidate Donald Trump, "prophetic" isn't likely to be on the short list. But when he accused his Democratic opponent Hillary Clinton of playing "the woman card" last spring, it foreshadowed the success of a brother-sister duo who turned Trump's apparent sexism into a successful venture.
"The Woman Cards," created by Iowa natives Zach and Zebby Wahls in April, is a 54-count deck of playing cards featuring 15 original hand-drawn portraits of American women who are known around the world, including Clinton, singer Beyoncé and civil rights icon Rosa Parks. The deck, which is selling for $19.99, has been ordered by several thousands of supporters, the Walhs said in an email Monday.
The project started out as an impromptu Kickstarter campaign that ballooned to more than $150,000 from over 5,000 backers. More than 12,500 decks and 750 individual prints of Zebby Wahls' artwork were due to begin shipping next week.
"We have been totally overwhelmed by the generosity of those who supported this project, and we hope everyone enjoys this deck of cards as much as we've enjoyed bringing it to life," Wahls said in a press release.
Zach Wahls, 25, who was an Iowa delegate for Clinton at the Democratic National Convention in Philadelphia, told USA Today that the money raised from the cards helped him pay for his trip, including the $600-a-night hotel room. He sold packs of the Woman Cards to convention attendees out of his backpack.
The playing cards idea was inspired by Trump's words during a primary season victory speech April 26 in New York City. "Frankly, if Hillary Clinton were a man, I don't think she'd get 5% of the vote," Trump said. "The only thing she's got going is the woman's card."
Clinton responded in a tweet: "Well, if fighting for women's healthcare and paid family leave and equal pay is playing the woman card, then deal me in."
Clinton holds a 51-41 lead over Trump, according to the latest NBC News-SurveyMonkey poll. The 10-point lead is the largest spread since the two candidates were first compared in polling from May.
"I don't think we can take all the credit for Secretary Clinton's success in the polls," Zach Wahls said jokingly Tuesday. "I think we were able to take a negative comment [from Trump] and turn it into a really positive project that ended up being well-received, that is inspirational and educational."