Forever 21 Joins Zara In Being Called Out For Stealing From Indie Designers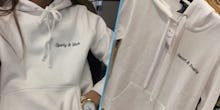 It seems that indie designers who produce products for cult followings need to keep a watchful eye out on bigger retailer giants trying to sneakily cash in on their creativity.
Just a few weeks after a group of indie brands publicly called out Zara for stealing their original designs, Forever 21 is finding itself in a similar situation. Sporty & Rich, a brand founded by Emily Oberg, an editorial producer at Complex, is accusing Forever 21 of replicating one of its signature sweatshirt designs. 
"When Forever21 copies you," Oberg wrote on Sporty & Rich's Instagram with a photo of the retailer's version. 
As seen in the above image, Oberg's version, which is no longer available, was a white hoodie with the words Sporty & Rich. Forever 21's sweatshirt, which is currently being sold on its website and in stores, says Smart & Pretty. 
Rather then accept injustice, Oberg took to Instagram to discuss what had happened and garner support for independent designers. "I knew by sharing this information with [my followers] they would rally behind me and understand that retailers like Forever 21 are actually hurting smaller, independent people," she said in an interview. "Creativity is special and ideas are sacred, we need to protect these things and stand up for ourselves."
Forever 21, specifically, has been called out many times for supposedly ripping off design ideas or even replicating exact copies of a smaller designer's piece. Just last week, Millinksy, the artistic director of NASASEASONS, a brand worn by Zendaya and Rihanna, posted an image to Instagram of a shirt Forever 21 was selling with one of his brand's signature sayings, "I came to break hearts." 
"Young designers are having more and more power," Millinksy said in an interview. "What enables my brand to become popular is clearly social media and platform such a Instagram and Tumblr." 
He adds: "Nevertheless as much as I have power on social media, it's nothing compare to the following of Forever 21 or Zara. As a result, it's very easy for them to copy ideas of low-key brands and make it their own because only few dozens of thousands will know they actually copy that idea." 
A few weeks prior, Warren Lotas wrote to Forever 21 on Twitter for "bootlegging" his design. And the list goes on and on spanning from these brands to Saint Laurent and competitor H&M. 
Oberg is currently looking into what her options are in terms of contacting Forever 21.  "I think it's only fair that I get my cut and get them to stop producing these fakes," she said. "I have to protect my brand and my ideas at the end of the day." 
In the long run, she believes there needs to be stricter laws and rules set in place to protect the ideas of the "smaller guys." 
"[These retailers are] just fresh out of ideas and the people work at them lack originality or inventiveness," Oberg said. "Sure, we can hire lawyers and threaten to sue, but not everyone has the luxury of obtaining those resources, especially not when you're a tiny brand operating on your own."
But, for now, she, and many other indie brands with strong followings, have support on social media. And some designers who have also been copied have commented on Oberg's post simply to say "same." 
"They ripped us off too, one of the most unoriginal companies of all time," the brand Extra Cheese said. "They ripped off my company (Wildfox) I can't even count how many times. It was insanity," the brand's founder Emily Faustich said. 
Oberg hopes that other brands know that they don't have to be intimidated by these retailer giants. "Just because someone has more money, more people and more resources than you doesn't mean they can rip you off," she said.