Altars for Korryn Gaines, Other Black Women Killed by Police Pop Up in Several Cities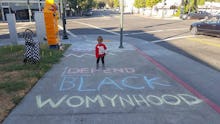 For two days in August, people in far-flung cities across the United States constructed public altars aimed to do something the United States will not: defend black womanhood.
According to a list compiled by Black Feminist Future, a collective of black activists and organizers, at least 50 black women have been killed by state violence since the 1980s — including Korryn Gaines, a 23-year-old black woman who was shot and killed by Baltimore County police on Aug. 1 while allegedly holding a child.
Despite their frequency, the deaths of black women at the hands of police and state-sanctioned violence has gotten comparatively less attention than black men — Eric Garner, Michael Brown, Freddie Gray — whose deaths have become rallying cries for the movement to end police brutality.
Activists, some of whom are affiliated with the Movement for Black Lives, have challenged people to #SayHerName and focus policy and protest attention on the way in which black women are uniquely targeted by police violence. Like Gaines, they become victims themselves or — as Sybrina Fulton, Gwendolyn Woods and countless other Mothers of the Movement can attest — they are tasked with burying their children and fighting for accountability for their deaths. 
In the aftermath of Gaines' death, Black Feminist Future urged people across the country to build altars to honor black women. 
"Resistance and rebellion take different shapes and forms," the group wrote in a statement. "We see the building of community altars as a way to take up public space, to mourn and grieve collectively and publicly, to amplify the names of who we have lost and to center and amplify black women and girls we have lost."
On Sunday and Monday, communities heeded the call for collective space to grieve black women's lives. Here's what it looked like.
Brooklyn, New York
Oakland, California
Cleveland, Ohio
Philadelphia, Pennsylvania 
The Bronx, New York City
Atlanta, Georgia
Greensboro, North Carolina
St. Louis, Missouri
Raleigh, North Carolina