This Ring Allows You to Feel Your Partner's Heartbeat From Anywhere in the World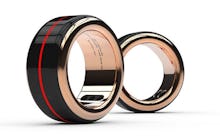 With a tap of a finger, people wearing TheTouch's HB ring can both feel and see their significant other's heartbeat. In other words, meet the ultimate "I really, really love you; don't ever leave me — literally" piece of jewelry. 
The rings, which are made of sapphire and rose gold and retail for $599.00 a pair, is programmed through an app made for both iOS and Android. After you download it, you are able to link your own ring with someone else's.  
The app was specifically designed so you can pair and feel the tranquil beating of your partner's heart whether you're sleeping next to one another or on separate continents. 
"HB Ring is simply great for people who are deeply in love," TheTouch's website reads. (This might be the time to DTR.) 
But, wait. You don't have to be romantically involved to reap the benefits of the ring, as it can also be used to check and make sure another person is alive. 
The "HB Ring can be also a very useful tool for people in dangerous professions such as the military, police and etc., whose lives are daily in danger, allowing their close ones to worry less, without disturbing them," according to the website.  
This isn't the first company to create a heartbeat wearable. Launched on Kickstarter in November, Little Riot's Pillow Talk bracelets work like HB Ring. And you can also send your heartbeat to your friends with an Apple Watch. 
Regardless, some have taken to the brand's Instagram page to voice their excitement with the oh-so romantic product. 
"This is so amazing!! Husband and I are celebrating 20 years his November — we need these," one commented. Said another: "Really, really want a set of these." 
The rings are currently available for preorder, with items shipping in 2017, on the brand's website. 
You tell us, creepy, romantic, sweet or just completely unnecessary?