Whoopi Goldberg's New Reality Show 'Strut' Featuring Trans Models Drops First Trailer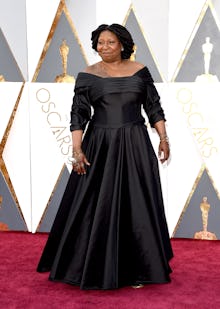 In May, Oxygen greenlit the Whoopi Goldberg-produced series Strut. Now, three months later, the first trailer for the series that follows five transgender models as they chase their passions and navigate the traditionally exclusive fashion industry is finally here. 
"They want a girl that's 6-[foot]-2, 35-25-35. They didn't ask if you have a penis or not," cast member Dominique Jackson says in the two-minute clip released on Tuesday. 
Viewers are also introduced to Laith De La Cruz, former America's Next Top Model finalist Isis King, Ren Spriggs and Arisce Wanzer, all models represented by the first exclusively transgender modeling agency Slay Model Management. 
"Our models come from all walks of life, all different backgrounds and ethnicities," Goldberg said in a press release. "They are struggling with things we can all relate to: trying to make ends meet, fighting to make a name for themselves and navigating the minefields of personal relationships."
"All of these struggles are amplified by the fact that they are also fighting to break down barriers and taking on the responsibility of representing the transgender community in today's society," she added.
Throughout the series, the models discuss the various ways they are treated and looked at differently because of who they are. "Because I'm trans, people are judging my every moment of every day," De La Cruz, who recently covered Attitude magazine's June issue, says in the trailer. 
But the show is not just another competition reality series. Strut also dives into how relationships are affected when someone transitions.
"People do lose friends and family," Jackson says. 
The models are seen dealing with the struggles of earning the respect of their families as well as the struggles that come with dating. 
"We've always been here, and now you know it," Jackson says at the end of the trailer. "Welcome."
Watch the full trailer and meet the models, who are joining Hari Nef and Andreja Pejic in redefining the fashion industry, below:
Strut premieres Sept. 20 at 9 p.m. Eastern on Oxygen.