Baltimore Police Violated Black Residents' Civil Rights, Justice Department Probe Finds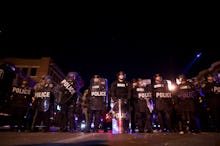 Before Baltimore officers took Freddie Gray on a paddy wagon ride that would lead to his death last year, the local police force had been routinely violating civil rights and using brute force against residents in the majority-black Maryland city.
That's the gist of a long-awaited report released Wednesday by the U.S. Department of Justice, which launched a probe of policing practices in the Baltimore Police Department following Gray's death in April 2015.
READ: The full DOJ report on the Baltimore Police Department
Among its findings, the Justice Department said Baltimore officers disproportionately stopped, searched and arrested African-American residents, often lacking probable cause required by the Fourth Amendment and failing to tell arrestees why they were being detained. Hundreds of black residents were stopped by police at least 10 times — some, more than 30 times — and charged with crimes more often than whites who committed the same offense, according to the copy of the report that Mic obtained Tuesday night.
The 163-page report goes on to detail how officers used excessive force against adults and juveniles — but police officials only found they had acted improperly in 1 of 2,818 use-of-force incidents. Officers victim blamed women who reported rapes, used racial slurs against black residents and displayed anti-LGBTQ sentiment while on duty, according to the report.
"These violations have deeply eroded the mutual trust between BPD and the community it serves, trust that is essential to effective policing," Vanita Gupta, head of the Justice Department's Civil Rights Division, said in a press conference from Baltimore's City Hall on Wednesday.
"The problems in Baltimore didn't happen overnight or appear in a day," Gupta said, citing the Baltimore force's "zero tolerance" policy and inadequate officer training that date back to the late 1990s. "Proactive policing does not have to lead to these consequences."
Gupta laid bare various examples of Baltimore police officers' discriminatory and unconstitutional conduct. For example, federal officials' review of police department records show that 82% of traffic stops involved black drivers, even though they only accounted for 60% of the driving age population of the city. The police department made roughly 44% of its pedestrian stops in two, predominantly African-American neighborhoods that include only 11% of the city's population, Gupta said.
Baltimore Mayor Stephanie Rawlings-Blake and city Police Commissioner Kevin Davis countered the DOJ's blistering report Wednesday by announcing a number of reforms they say directly or indirectly address problems on the force. Those efforts include having fitted officers with body-worn cameras, the mayor said.
"Today marks an important step on our path to reform," Rawlings-Blake said in the DOJ's press conference. "The findings are challenging to hear. But let me be clear: I never sugarcoat our problems, nor will I run away from our most pressing challenges. We have to heal our city."
Davis said he had fired six police officers since the start of 2016, suggesting that some were terminated because of the findings of the DOJ investigation. "Change is painful [and] growth is painful," Davis said. "But nothing is as painful as being stuck in the place that we are."
"This report is an indictment of the bad behaviors by a relatively small amount of officers," he added. Officers who do their jobs legally and compassionately everyday are offended by the report's findings, too, Davis said.
The report comes just two weeks after a local prosecutor dropped charges against officers accused of misconduct, manslaughter and assault in the 2015 death of Gray, a 25-year-old African-American man whose death sparked local civil unrest and protests nationwide. Three of the six officers accused had previously been acquitted in bench trials, after proceedings against a fourth officer ended in a mistrial.
Gray reportedly made eye contact with Baltimore police before he was chased by a unit of bicycle officers on April 12, 2015. After surrendering to the officers, the handcuffed Gray was loaded in a police van unbuckled. During the ride, he suffered a severe neck and back injury, and was initially not given the medical aid he requested, prosecutors had alleged. Gray died of his injuries on April 19. 
The Justice Department's report focuses more on the systemic issues of the Baltimore police practices and less on the details of Gray's arrest. However, federal officials have been conducting a criminal inquiry into whether officers violated Gray's civil rights in 2015, the Baltimore Sun reported. That inquiry was still open Wednesday.
The report also represents the second time the DOJ has harshly criticized a local police department in the wake of nationwide protests over the police-involved deaths of African-Americans. In 2015, federal officials ordered Ferguson, Missouri, to reform unconstitutional police practices, following the 2014 police shooting death of Michael Brown.
The DOJ is also currently investigating the Chicago Police Department.
Gupta said the Justice Department and the Baltimore Police Department had already agreed on parameters of a negotiation that would produce a consent decree, a court-enforceable agreement between the agencies to implement the needed reforms. Davis, the Baltimore police commissioner, said he has previously worked in a police department that operated under a consent decree. 
"We came out of that consent decree a better department," Davis said.
Aug. 10, 2016, 4:45 p.m. Eastern: This story has been updated.