Read the Justice Department's Full Report on the Baltimore Police Department Probe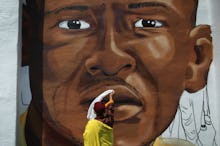 On Wednesday, the U.S. Justice Department is expected to publicly release a long-awaited report on its investigation into the practices of the Baltimore Police Department.
The investigation, launched after the April 2015 death of Freddie Gray, found that officers routinely violated the civil rights of residents by making unjust stops and arrests in the majority-black city, according to a copy of the report that Mic obtained Tuesday night.
As a result of its findings, the Justice Department is likely to ask a judge to force Baltimore officials to institute reforms that can be tracked by an independent monitor. 
The report represented the second time federal officials have sought reforms in the wake of recent nationwide protests against discriminatory policing in communities of color.
In 2015, the Justice Department harshly criticized widespread unconstitutional practices among police and city officials in Ferguson, Missouri, after the August 2014 police shooting death of unarmed black teenager Michael Brown. The DOJ is currently investigating the Chicago Police Department.
Below, read the DOJ's full report on the Baltimore Police Department: