What Is Kevin Durant's Net Worth? The Basketball Star Is Doing Quite Well for Himself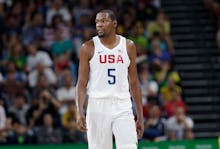 Have you watched the U.S. men's basketball team at the 2016 Summer Olympics in Rio de Janeiro and thought, "Who is this nearly 7-foot man scores effortlessly in the face of opponents with absolutely no remorse?" That would be Kevin Durant. 
Durant, one of the best players — and scorers — in the NBA, has an impressive resume under his belt, including one NBA Finals appearance and four scoring titles. He also made waves this summer, leaving the team he's played with for nearly his entire NBA career, the Oklahoma City Thunder, to join the Golden State Warriors. 
The move was criticized by some fans and sports personalities, considering he ditched his team to join one that beat him in the playoffs this season, one that was already poised as a surefire title contender without his presence. 
But here's the bright side for Durant: He's going to get paid. The two-year deal with the Warriors will be for $54.3 million, to go along with the money he makes from endorsements. So what, exactly, is Durant's net worth? 
Quite a lot, according to Money Nation. Durant's net worth stood at around $120 million prior to the move to the Warriors, and is expected to rise even further for ditching Oklahoma City for Silicon Valley. How much more his net worth increases, we'll find out in time; he's yet to actually play a game for the Warriors, after all.
In the meantime, fans can continue watching Durant and the rest of Team USA breeze through the Olympic competitions. Durant's future continues to be bright — so long as he appeases the Based God.