Ryan Lochte's Silver-Turned-Blue Hair at the Olympics Has Twitter Divided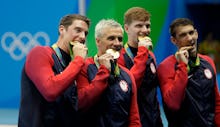 Prior to the 2016 Summer Olympics, competitive swimmer and Jezebel-certified "America's sexiest douchebag" Ryan Lochte got a makeover. He premiered a silver, or "light blue" as he called it, 'do on Instagram. 
"Usually I've always done the grills at the Olympics," he told USA Today. "I left the grills at home. I had to do something different so why not the hair? It's different, that's me, that's my personality. People say, 'Oh, you're hiding your gray hair now that you're 32,' which is true, so I went full gray."
And now, a week later, Twitter users still have mixed reactions to his now-bluish/green locks. Many are pointing out that it seems that Lochte, who has spent most of his life in a pool, doesn't understand the effects chlorine can have on bleached hair. 
While others just cannot wrap their heads around the 32-year-old's decision. 
And some believe he is still just as bangable. 
Regardless of whether you are a fan of the silver fox look, maybe just be grateful you don't need to look at his shiny grill this year as he takes a bite out of one of his medals. 
Plus, most of the time he has a swim cap on anyway.