9 Plus-Size Clothing Brands That Don't Ignore Women Size 22 and Up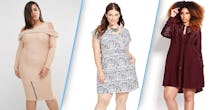 Despite an influx of body positive campaigns and celebrity discussion about inclusive red carpet fashion, there still seems to be one idealized image of a plus-size woman — a woman only slightly thicker than so-called "straight-size" models.
Take two of the more popular body-positive crusaders, Ashley Graham and Iskra Lawrence, for instance: Graham is a size 14, while Lawrence is a size 10. Although the average size for a woman in the United States is a between a 12 and 14, brands and campaigns often cater to smaller plus-size women  — leaving a large group of women excluded even from plus-size campaigns. 
And when it comes to brands, the story is no different. Retailers like H&M and Target have been called out for selling plus-size items online only, while stores like Victoria's Secret and Lululemon don't sell any clothing that would cater to women who require anything above XL. 
With that in mind, we decided to round up nine brands that are creating chic, fashionable pieces and catering to the plus-size women who are so often neglected by the industry. 
Universal Standard
Universal Standard, a brand that creates items in sizes 10 to 28, is here to remind the fashion industry that plus-size women, too, like minimalistic and classic pieces.
Its founders, Polina Veksler and Alexandra Waldman, couldn't find stylish everyday clothing like their "straight-size" friends could. 
Rebdolls 
Rebdolls, whose slogan is #SEXYFORALL, is an trendy online retailer manufacturing its clothing in sizes 0 to 32. 
"The company aims to provide one large platform where women can identify themselves, and most importantly find fashion they absolutely love," its website reads.
ModCloth
With numerous body-positive campaigns enlisting employees and customers and a decision to integrate its plus-size items with the rest of the sizes, ModCloth is a prime example of what size-inclusive brands can look like.  
As Mary Alderete, the brand's chief marketing officer previously told Mic, "We want to make it normative that women are considered capable and confident no matter their size." 
Addition Elle
This Canada-based brand makes everything from everyday clothing to activewear in sizes X to 4X. Ashley Graham has even collaborated with the company for her own lingerie collection. 
"We believe in fashion democracy, which is a belief that style isn't limited by size," Roslyn Griner, the brand's vice president of marketing and visual display, said in an interview. "Plus-sized women should have access to clothes that are in style but also flatter their body types...  Addition Elle has everything from swimwear to dresses, so no matter the occasion we have clothes that will make you look and feel good."
Ashley Stewart
Ashley Stewart, a brand with over 89 stores across the country, sells items from tops and bottoms to swim and intimates in sizes 12 to 32. 
"We want women to feel good about themselves in the latest trends, regardless of their size," Kristen Gaskins, president and chief merchandising officer of AshleyStewart, said in an interview. That is why it has always been important to offer women sizes that are not, unfortunately, considered a standard offering for many retailers." 
She added: "Overall, women over a size 22, or just plus women in general, have less options than women that are sizes 0 to 12. They can't go to the mall and shop numerous stores like their smaller friends, many brands only sell plus sizes online which does not give her the option to touch, feel, and try on the garment and the shopping experience is more isolating." 
Asos
Unlike many other popular online fast fashion destinations, Asos has a large selection of plus-size options under its Asos Curve line in U.K. sizes 18 to 30 (U.S. sizes 14 to 26). 
Navabi
Navabi offers luxury pieces in sizes 12 to 32 from an array of designers. What's different about this website is that customers can shop by body shape.
In two steps on its site, you can find out what body shape you are and then choose if you want to shop rectangle, pear, strawberry, hourglass or oval. 
"The reality of buying premium plus size fashion can be quite a challenge and navabi's aim is to reach out and spread the word that high quality stylish fashion does exist beyond size 12," one of the brand's cofounders, Bahman Nedaei, said in a press release.
Gwynnie Bee
Unlike the other brands on this list, Gwynnie Bee is not a traditional retailer, but rather a clothing rental service for plus-size women. The company aggregates an assortment of different plus brands — such as Eloquii and Melissa McCarthy Seven7 — on its website, where customers can rent items they like, wear them as long as they please and then either return or purchase said item. 
"Rental emerged as a great opportunity since it not only allowed us to provide them more access at lower levels of financial commitment, but also allowed us to promote the idea of having fun with fashion as a function of the 'try, wear, exchange' model," Gwynnie Bee CEO and founder Christine Hunsicker said in an interview. 
SmartGlamour
SmartGlamour, an ethical brand launched by New York City-based designer Mallorie Dunn in 2014, sells all of its designs in sizes XXS to 6X. On top of this, the brand is known for its inclusive campaigns, the most recent being #InYourSize.
"SmartGlamour aims to turn the fashion and beauty industry on it's head by first, offering clothing to literally every body and second, using our imagery and advertisements to create accurate representation of humans in every size, shape, height, weight, age, ability, ethnicity, and identity — with zero airbrushing allowed," she said in an interview. 
She adds: "All human beings deserve to have the same access to the same designs at the same prices." End of story.