Ashley Graham Is the Newest Face for H&M — But There's a Troubling Twist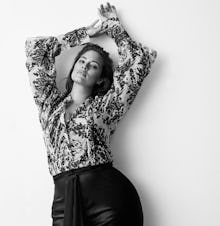 Many publications praised H&M for continuing its trend of casting diverse models after the brand announced Ashley Graham as one of the faces of its studio collection. 
After all, she isn't modeling a plus-size line, or even blatantly offering a body positive message. Instead, she's posing for the brand's pricier, seasonal collection alongside other "straight-sized" models. 
"It's exciting to be representing one of the most internationally known fashion retailers that is not only offering more options for curvy women, but pieces that have a high fashion aesthetic," the model told Harper's Bazaar. 
The collection, for which Graham first modeled when it was shown during Paris Fashion Week in March, is set to be released in stores on Sept. 9. But, before you "ooh and aah" about the new clothing items, there's quite a troubling twist. As Racked noted, plus sizes will be sold exclusively online. 
Ashley Graham, who is a size 14, would likely only be able to purchase the items she is modeling online. (On its website, H&M offers most of its items in sizes up to a 12, and sometimes, a 14. Its H&M+ line is manufactured in sizes 14 to 24.) 
Back in 2013, H&M did something similar when it enlisted plus-size model Jennie Runk for a beachwear campaign. The words "plus-size" were nowhere to be found in the images on its website. But using this imagery doesn't make the brand completely inclusive if these women aren't able to shop next to smaller women in-store.  
And H&M is not the only brand leaving out women sizes 14 and up. Retailers like Target and Old Navy have also been called out for selling pieces exclusively online. Then there's the issue of location. Even if the lines are in-store, they are almost always segregated and contain less options than the "straight-sized" clothing sections. 
H&M: You can remove the term "plus-size" from a lookbook and cast diverse models to show just how inclusive you are. But, know that it's not solving many of the struggles that plus-size women face when shopping. 
Women — of all sizes —  want to be able to shop with their friends without having to bring their laptops and find a hotspot.